Twinkle Khanna clarifies reaction to PM Modi's joke, says only party she endorses involves vodka, hangover
Twinkle Khanna has said that the only party she's likely to endorse these days would involve vodka shots and a hangover. PM Modi had earlier joked to Akshay Kumar that he must be leading a peaceful life at home since Twinkle vents all her anger against him on Twitter.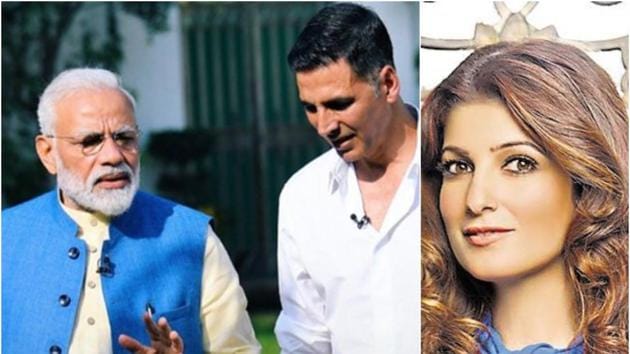 Updated on May 05, 2020 09:00 PM IST
Author Twinkle Khanna has tweeted a clarification to her response to Prime Minister Narendra Modi's comments in an interview with her husband, actor Akshay Kumar. Her tweet, she insisted, did not amount to an endorsement.
"Nothing more - Nothing less - A response does not translate into an endorsement," the author known for her sharp sense of humour said. "The only party I am likely to be a part of at this point would involve liberal amounts of vodka shots and a hangover the next day :)" she said, reacting to the string of reactions that her initial comment had generated.
Also read: Avengers Endgame movie review: A pinnacle of superhero storytelling, Marvel's latest is a triumphant tear-jerker
On Wednesday, the author and columnist had reacted to her husband's 'non-political' interview with Prime Minister Narendra Modi.
Also Watch: PM Modi, Akshay Kumar crack jokes on mangoes, talk about 'good friend' Obama
PM Modi in the interview had told Akshay that he is a keen follower of his and Twinkle's Twitter accounts, and a frequent social media user. "Main aapka bhi Twitter dekhta hoon aur Twinkle Khanna ji ka Twitter dekhta hoon. Kabhi Kabhi toh mujhe lagta hai ki vo mere upar gussa nikaalti hai Twitter pe, toh uske kaaran aapke parivaarik jeevan mein badi shaanti rehti hogi. Unka pura gussa mujpe nikal jaata hoga isliye aapko araam rehta hoga. Toh is prakaar se main aapke kaam aaya hoon," PM Modi joked in the interview.
To this Twinkle had written on Twitter, "I have a rather positive way of looking at this - Not only is the Prime Minister aware that I exist but he actually reads my work :)."
Akshay and Twinkle's opposing political ideologies have often been the source of debate. Both have addressed this in the past. Akshay told Bombay Times, "Both Twinkle and I are not against anyone. She has her point of view and I have mine. That's the way things should be between a husband and wife. If I tell her to do things my way, it's wrong on my part. Such things can cause trouble and even break a relationship."
Twinkle, meanwhile, had insisted in a tweet that a couple need not share the same political beliefs for a marriage to work.
Follow @htshowbiz for more
Close Story