In interview to Akshay Kumar, PM Modi reveals Obama's advice to him
Akshay Kumar tweeted a couple of teasers from his interview with Prime Minister Narendra Modi that he said was a breather at a time the whole country is talking elections and politics.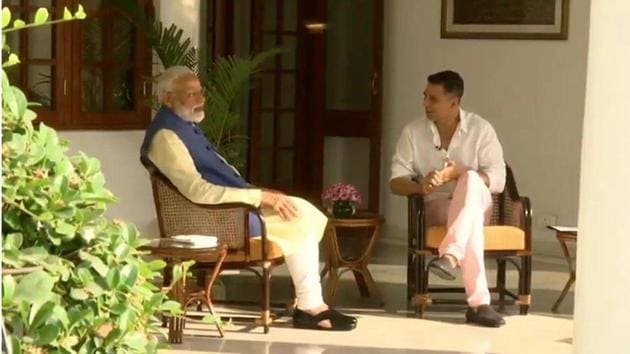 Updated on May 03, 2020 07:23 PM IST
When Prime Minister Narendra Modi met US President Barack Obama in early 2015, one of the first topic of conversation between the two leaders was the prime minister's sleep pattern. "He asked me, why do you do this (sleep for only a few hours)," PM Modi revealed.
"Whenever we met after that one, he would always ask if I listened to him and increased the number of hours I sleep," PM Modi in an interview to actor Akshay Kumar being described as PM Modi's first to a non-journalist.
It was this interview that Akshay Kumar referred to on Monday when he put out a much-misunderstood tweet.
"Getting into an unknown and uncharted territory today. Doing something I have never done before. Excited and nervous both. Stay tuned for updates," he had tweeted, setting off massive speculation about the possibility of the 51-year-old actor's political plunge.
Watch | LS elections 2019: PM Modi, Akshay Kumar full interview
M
He did attempt to cap the buzz soon enough, with a clarification. "Grateful for all the interest shown in my previous tweet but just clarifying in light of some wild speculation, I am not contesting elections," he tweeted.
HT had reported soon after that an interview with PM Modi was what the actor was alluding to.
On Tuesday, he tweeted a couple of teasers from the interview that he described as a breather at a time the whole country is talking elections and politics.
"Privileged to have done this candid and COMPLETELY NON-POLITICAL free-wheeling conversation," Akshay Kumar tweeted, promising to out some "lesser known facts" about the prime minister in the interview.
PM Modi replied to the tweet, saying, "Dear @akshaykumar, it was good talking to you about everything, except politics and elections :) I'm sure people would like watching our conversation."
In one video tweeted by Akshay Kumar, he asks the PM whether he misses spendingh time with his mother, his brother and other relatives. To this, the PM Modi replies, "I gave up all of that at a very young age... My mother tells me why do I worry about spending time with her."
During the course of the interview, Akshay Kumar also asks the PM some free-wheeling, light-hearted questions such as whether he eats mangoes or not and whether he was actually a true Gujarati.
Close Story