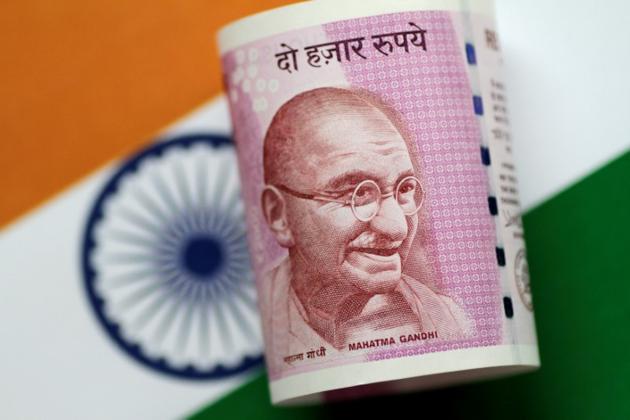 Rupee trades flat against US dollar
At 11.15 am, the rupee was trading at 65.00 against the US dollar, down 0.05% from Thursday's close of 65.96.
Livemint, Mumbai | By Ravindra N. Sonavane
UPDATED ON APR 06, 2018 11:28 AM IST
The Indian rupee was trading little changed against US dollar on Friday in morning trade.
The rupee opened at 64.99 a dollar. At 11.15 am, the home currency was trading at 65.00 a dollar, down 0.05% from its Thursday's close of 65.96.
| Read: Sensex, Nifty flat in trade as Trump threatens fresh tariffs
The 10-year bond yield was trading at 7.144% compared to its previous close of 7.127%. Bond yields and prices move in opposite directions.
On Thursday, the Reserve Bank of India's (RBI) monetary policy committee (MPC) decided to keep repo rate at 6%. RBI also unexpectedly lowered its inflation forecast and projected consumer price index-based inflation at 4.5% for the fourth quarter of fiscal year 2017-18. For first half of fiscal year 2018-19, inflation expected to stay in the range of 4.7-5.1% and for second half at 4.4-4.5%.
Traders are cautious ahead of the March US payroll report, which is expected to show the lowest jobless rate in 17 years.
So far this year, the rupee fell 1.76%, while foreign investors have bought $2.10 billion and $400 million in equity and debt markets respectively.
Asian currencies were trading lower after US President Donald Trump said on Thursday that he ordered the US trade representative to consider $100 billion in additional tariffs on Chinese goods, ratcheting up the US-China trade war after his administration signalled it would be willing to negotiate.
South Korean won was down 0.43%, China renminbi 0.21%, China offshore 0.21%, Taiwan dollar 0.18%, Malaysian ringgit 0.14%, Indonesian rupiah 0.08%, Thai baht 0.08%. However, Japanese yen was up 0.19.
The dollar index, which measures the US currency's strength against major currencies, was trading at 90.345, down 0.13% from its previous close of 90.46.
Close