US heads to Dutch, Japanese help over China chip crackdown
Updated on Jan 20, 2023 03:06 PM IST
Global chip shortage: The Dutch and Japanese export controls may be agreed to and finalized as soon as the end of January, according to people familiar with the matter.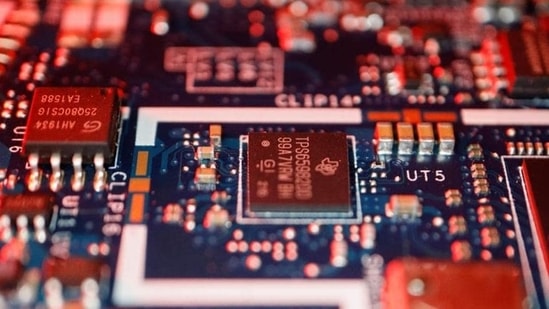 The Netherlands and Japan, home to key suppliers of semiconductor manufacturing equipment, are close to joining a Biden administration-led effort to restrict exports of the technology to China and hobble its push into the chips industry.
Read here: US-China relation is at an inflection point
The Dutch and Japanese export controls may be agreed to and finalized as soon as the end of January, according to people familiar with the matter. Japan's prime minister, Fumio Kishida, and the prime minister of the Netherlands, Mark Rutte, discussed their plans with US President Joe Biden at the White House earlier this month.
"I'm fairly confident that we will get there," Rutte said Thursday in an interview with Bloomberg News on the sidelines of the World Economic Forum in Davos, Switzerland.
The Hague and Tokyo likely won't go as far as Washington's restrictions, which not only limit exports of American-made machinery but also impede US citizens from working with Chinese chipmakers. Even so, Beijing may find itself even more cut off from either the technology or know-how it needs to build the most advanced kinds of semiconductors once all three countries act.
While the US is home to the biggest group of chip-gear makers, the Netherlands boasts ASML Holding NV, which controls the market for lithography technology that's one of the most important steps in producing the electronic components. Japan's Tokyo Electron Ltd. is a major rival to US companies in other types of machinery. Without access to their state-of-the-art products and those supplied by US firms Applied Materials Inc., Lam Research Corp. and KLA Corp., Chinese companies would find it almost impossible to build production lines capable of the most advanced chip manufacturing, analysts say.
Applied Materials, Lam Research and KLA all traded down by more than 2%, in line with broader market moves.
A spokeswoman for the White House's National Security Council declined to comment.
Read here: India, US to use TPF meet to focus on 'big picture' of trade ties
China Foreign Ministry spokesman Wang Wenbin said Friday at a regular press briefing in Beijing that the US effort showed its "selfish hegemonic interest" and that Washington was "seeking to benefit itself at the expense of its allies."
Beijing "would follow what is developing an defend our own interests," Wang added.
The Biden administration issued sweeping new rules in October that include restrictions on the supply of US manufacturers' most advanced chipmaking equipment to Chinese customers and limits on Americans working for Chinese semiconductor firms, a move aimed at choking off access to certain expertise.
A comment period on the Commerce Department's rules — opposed by some US semiconductor companies but supported by lawmakers in both parties — closes Jan. 31. Republicans in Congress have pressured Commerce Secretary Gina Raimondo to crack down even tighter on Chinese chipmakers, questioning in a letter on Wednesday whether the export controls are being sufficiently enforced.
Semiconductors have become a key battleground for the growing rivalry between the world's two largest economies. The US is the inventor and largest provider of the technology, while China is the biggest single market. Beijing's dependence, combined with growing efforts by Washington to limit access to advanced chips and their military use, have prompted China to seek to reduce its reliance on imports.
For Biden, broadening his move against China to include the Netherlands and Japan will add to its effectiveness. For the Dutch and Japanese, as for some US companies, the geopolitical concerns must be weighed against losing access to a huge market.
"I commend the Biden administration for working with our partners to apply export controls on equipment used to make advanced semiconductors and am eager to scrutinize the specifics of what comes out of these talks," Texas Representative Michael McCaul, who chairs the House Foreign Affairs Committee, said in a statement to Bloomberg News. "A Republican Congress is ready to use its authorities to protect U.S. national security and defend human rights, should the outcomes not substantially match the controls currently in place."
Read here: We're in a chip war: Samsung veteran sounds alarm on South Korea losing ground
McCaul is set to meet with Raimondo to discuss the matter on Thursday. It's uncertain how long it will take the other countries to implement their measures.
"It could even be something which just happens without big announcements," Rutte said in the interview. "It's still not clear. It depends a bit on how the discussions with various countries will evolve."
After the US announcement in October, some American companies were forced to warn investors that they may lose out on billions of dollars in future China revenue. Since then, they've argued it also exposes them to losing market share, if overseas competitors are allowed to continue to operate in China relatively unrestricted.
Tokyo Electron has said the general clampdown on its Chinese customers is already hurting business, while ASML has said that demand elsewhere in the world for its most advanced products can make up for any revenue shortfall from China.