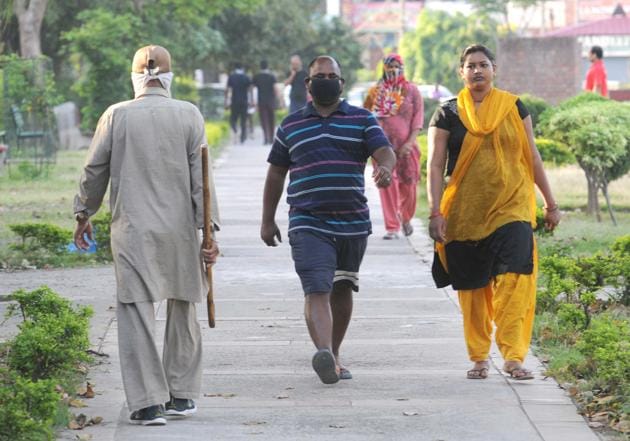 Chandigarh admn's lockdown orders no dampener for morning walkers
SCANT REGARD: Continue to head out for walks twice a day despite orders, unmindful of need for social distancing
Hindustan Times, Chandigarh | By Rajanbir Singh
UPDATED ON APR 12, 2020 11:15 AM IST
Two days after the UT administration asked the police to take to task people coming out of their houses for morning and evening walks, residents on Saturday were seen blatantly ignoring the administration's orders to get their bi-daily dose of exercise.
Vice-president of the Sector-49 residents' welfare association (RWA) Jatinder Mehta said, "When the curfew was imposed on March 24, hardly anyone could be seen outside, but after no positive cases were reported in the city in the last week, walkers became more frequent and started accumulating in neighbourhood parks. They rarely wear masks. The government needs to remind the residents that the threat is still present and still real."
President of the Sector-38 (West) RWA Pankaj Gupta said their association has been working with the police to discourage people from coming out, but many still persist.
"People make excuses like they will wear masks or maintain social distancing. We have a strict policy of no tolerance and any information about such walkers is passed on to the police."
As many as 11,789 people have been detained for violating curfew orders in the city while action under Section 188 (disobedience of order duly promulgated by public servant) of the Indian Penal Code has been initiated in 170 cases till now.
Deputy superintendent of police (DSP, PRO) Charanjit Singh Virk said, "We had only been warning walkers, and issuing first information reports (FIRs) only in extreme cases, but now, a drive is being launched to register cases against people going out for walks."
Many dog owners are still taking their pets for a walk even as senior police officers confirmed that it amounts to breaking curfew. President of the Sector-8C residents' welfare association, RS Gill said, "People take their dogs out for walks in the morning and evening. Keeping a dog in a small house can be problematic, but the police should take note as they are breaking curfew orders."
He added that the police need to deploy police officers in civil clothes to establish where the violations are taking place before taking action.
Reshamjit Kaur Dhaliwal, who runs a tricity based animal welfare NGO said that going out for walks is essential for dogs to stay healthy and the administration must find alternatives to facilitate this.
Police rounded up 375 people on Saturday for curfew violations. Of this, 180 were detained and then let go while four were booked under Section 188 of the IPC.
Police also impounded 236 vehicles, including 182 two-wheelers, four three-wheelers and 50 four-wheelers.
Close