Asaram rape case: Supreme Court questions Gujarat govt over slow trial
Updated on Aug 28, 2017 06:31 PM IST
The Supreme Court also asked the Gujarat government why the victim had not been examined till now.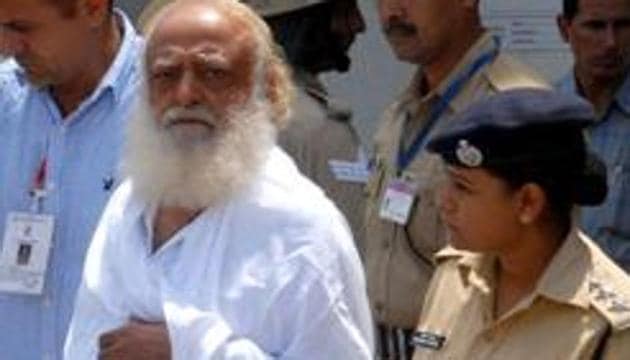 Press Trust of India, New Delhi |
Press Trust of India
The Supreme Court on Monday questioned the Gujarat government over the slow pace of trial in the rape case involving self-styled 'godman' Asaram Bapu.
A bench comprising justices NV Ramanna and Amitava Roy asked the state government why the victim has not been examined till now. It asked the state to file an affidavit in this regard and posted the matter for further hearing after Diwali.
Asaram was arrested by Jodhpur Police on August 31, 2013, and has been in jail since then.
On April 12, the apex court asked the trial court in Gujarat to expedite the recording of evidence of prosecution witnesses in a sexual assault case lodged by two Surat-based sisters against Asaram. The court asked the Surat trial court to record the testimonies of 46 remaining prosecution witnesses, including the alleged rape victims.
Earlier, the top court had refused to grant bail to Asaram on various grounds, including his poor health, in two separate sexual assault cases lodged in Rajasthan and Gujarat.
The apex court, while dismissing his bail plea on January 30, had observed that Asaram had placed a "fictitious document" to persuade the court to grant him bail and ordered registration of an FIR against those responsible for preparing and filing the alleged fake papers.
The two Surat-based sisters had lodged separate complaints against Asaram and his son Narayan Sai, accusing them of rape and illegal confinement, among other charges.
The elder sister, in her complaint, had accused Asaram of repeated sexual assaults between 2001 and 2006 when she was staying at his ashram near Ahmedabad.
In the case in Rajasthan, a teenage girl had accused him of sexual assault at his ashram in Manai village near Jodhpur. The girl, who belonged to Shahjahanpur in Uttar Pradesh, was a student living in the ashram.
The apex court had noted that trial in the matter was unnecessarily prolonged and the prosecution witnesses were being attacked, which led to the death of two witnesses.
The apex court had on November 18 last year sought the response of the Centre and five states on a plea seeking a CBI probe into the alleged murder of children and attacks on ten witnesses in the Asaram rape cases.