'Be morally and ethically right..': Sudha Murthy on controversies
Feb 01, 2023 05:30 PM IST
Sudha Murthy, chairperson of the Infosys Foundation, gave advice on life, wisdom, patience and controversies to her husband, daughter and son-in-law.
Author and philanthropist Sudha Murthy, who was conferred with the Padma Bhushan award this year, handed out advice to her husband and Infosys founder Narayana Murthy, son-in-law and UK PM Rishi Sunak and daughter Akshata Murthy.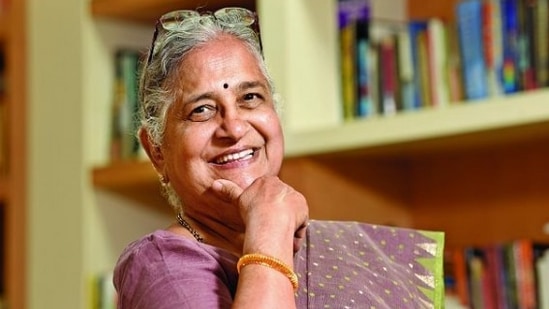 Her first advice to her family members was on the topic of controversies. She spoke to NDTV and said people who are in the limelight will always face controversy, and that one should be morally and ethically right, and work sincerely.
READ | Sudha Murthy conferred with Padma Bhushan; Kiran Mazumdar-Shaw reacts
She then said patience is a necessary asset, while one should also have the wisdom to know their limits. "Everyone has a capacity, but also limitations," she told NDTV. She also advised women in general that age is not a limitation. Talking about how many women have to juggle their professions with their personal lives, Murthy said children often become the priority once they are born.
"When you re-join (your job), you won't join at the same level. But remember, age is no bar. It is your passion that takes you to the top, and a good support system," she said.
READ | Sudha Murthy bowing down before a Mysore Royal sparks Internet debate
Murthy, who has authored more than 20 books, then said complaining helps no one. "When I took a back seat in my career, I never thought this [career in writing] would be possible... It was difficult for me because I was a technocrat and I liked working in a technical company. But, instead of cribbing, I decided to do something else," she said.
She then went on to write her first book in English and said she had successfully re-invented herself.
Murthy also touched on wealth and status, saying that it is all about the mindset. "Money is very important in life, because then you can help more people. [But] what is there to show off in wealth? There were rich people before me, and [will be] after me," she said.