Congress leader Raja Pateriya booked over remark on PM Modi
Dec 13, 2022 12:06 AM IST
An FIR against Congress leader and former Madhya Pradesh minister Raja Pateriya on Monday for asking people to "kill" Prime Minister Narendra Modi to "save" the Constitution, police said.
SAGAR: A first information report (FIR) was registered against Congress leader and former Madhya Pradesh minister Raja Pateriya on Monday for asking people to "kill" Prime Minister Narendra Modi to "save" the Constitution, police said.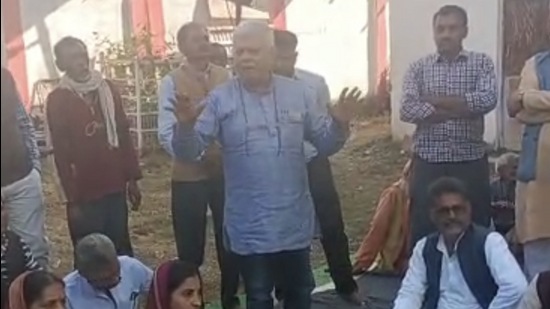 Pateriya, however, said his remarks were wrongly interpreted and that he meant defeating Modi electorally.
The FIR against the former state minister for technical education was registered by Panna police on the directions of state home minister Narottam Mishra after a video of the former making the remarks went viral.
In the video clip, seen by HT, Pateriya is seen attacking the Prime Minister and accusing him of putting the lives of minorities, Dalits and tribals in danger.
"Modi will end the elections. Modi will divide on the basis of religion, caste and language. The future of Dalits, tribals and minorities is in danger. If you want to save the Constitution, then be ready to kill Modi. Kill in the sense of defeating him," the state Congress vice-president said while addressing a meeting of Congress workers at Powai town in Panna district.
Taking note of the video, home minister Mishra said Pateriya's statement against Modi is very objectionable and directed the Panna superintendent of police (SP) to register an FIR against the Congress leader. "He has been booked for creating communal hatred among people and trying to disturb the country's law and order," Mishra said in a video statement.
Pateriya said his remarks were taken out of context and that he meant to "defeat" PM Modi in the elections.
"A video related to a mandal meeting yesterday at Powai has surfaced. I am a follower of Mahatma Gandhi who can't talk about killing anyone. It was wrongly presented. I wanted to say defeat Modi to protect the Constitution, dalits, tribals and minorities and also to remove unemployment," he said in Panna.
Panna SP Dharmraj Meena said a probe is underway. "A complaint against Raja Pateria has been filed and we have registered an FIR. Derogatory remarks have been used in the video which can cause unrest. Probe is underway, further action shall follow," he was quoted as saying by news agency ANI.
The video triggered a political row as the ruling Bharatiya Janata Party (BJP) attacked the Congress and also took a swipe at its ongoing Bharat Jodo Yatra.
Chief minister Shivraj Singh Chouhan said the "reality of those who are undertaking Bharat Jodo Yatra is coming to the fore".
"Congress people are not able to compete with PM Narendra Modi in the field, that's why a Congress leader is talking about killing him. This is the height of hatred. True feelings of Congress are being revealed. An FIR is being registered against him and law will take its course," Chouhan said in a statement.
Union minister Ashwini Kumar Choubey said the Congress has a history of abusing Modi, noting that its former president Sonia Gandhi had called the Prime Minister "maut ka saudagar" (merchant of death) while its incumbent head Mallikarjun Kharge likened him to "Ravan" during the recent Gujarat assembly elections.
Union minister Narendra Singh Tomar condemned the Congress and sought its leadership's apology for the comments, asserting that it exposed the opposition party's mindset.
The Congress distanced itself from Pateriya's remarks.
"It's his personal statement. We will keep our party out of it. The Congress was born out of non-violence and it has lost Mahatma Gandhi, Indira Gandhi, Rajiv Gandhi, Beant Singh to violence and terrorism.We do not support any type of violence, be it through statement or words," State Congress spokesman KK Mishra said.