Uttarkashi's ancient Gartang Gali wooden bridge opened to tourists today
, Hindustan Times, Dehradun
Vipin Negi
Aug 20, 2021 07:11 AM IST
Gartang Gali bridge, on an ancient trade route to Tibet, is believed to have been built by Peshawar Pathans. It was damaged over the years after it fell into disuse following the Indo-China war in 1962 when it was declared off-limits
The historic over 150-year-old Gartang Gali wooden bridge located at a height of 11,000 feet in Nelong Valley in Uttarakhand's Uttarkashi district near the Indo-China border reopened for tourists after 59 years on Wednesday following renovation.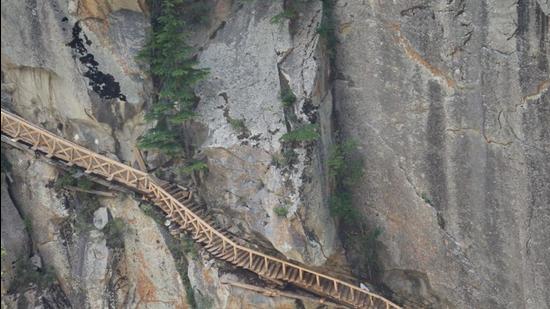 Gartang Gali bridge, on an ancient trade route to Tibet, is believed to have been built by Peshawar Pathans. It was damaged over the years and fell into disuse following the Indo-China war in 1962 when it was declared off-limits.
Uttarkashi district magistrate Mayur Dixit issued an order in this regard on Wednesday. He said, "The bridge has been renovated by the public works department at a cost of ₹ 65 lakh. Those interested in visiting Gartang Gali bridge will have to register themselves at Bhairav Ghati outpost and follow all the Covid guidelines."
Dixit said the repair and renovation of the bridge was started in September last year and completed in July this year. "It was very challenging to renovate this bridge at such a height, given the extreme weather and high-velocity winds. The labourers were tied with safety ropes while they worked on the bridge", he said
The bridge is located inside the Gangotri National Park and is at a distance of 90 km from Uttarkashi district headquarters. The bridge is 136 metre-long and 1.8 metre-wide.
Also Read | Cong to provide ₹200 subsidy on LPG cylinder if voted to power in Uttarakhand: Harish Rawat
"From the security point of view, only ten visitors will be allowed at a time and they will have to maintain a distance of one metre from each other. Movement of groups or any other activity, such as jumping, dancing, drinking liquor or carrying inflammable substances are prohibited on the bridge," the DM said.
State tourism minister Satpal Maharaj said, "The opening of Gatang Gali trek has added a new dimension to the adventure tourism activities in the state. The bridge has historical and strategic importance and demonstrates the cordial trade relations of the country with its neighbours since ancient times."
Dilip Jawalkar, secretary tourism, said the opening of Gartang Gali is in line with "our strategy to promote rural tourism with better expedition facilities and generate local employment and business opportunities in the associated areas".
Shailendra Matuda, president of the local hotel association, said this will promote tourism activities in the area. "We had been demanding the opening of this bridge since 2017. Now, we are hoping people from across India will come to see it," he said.