Delhiwale: Meet the Lucky Ladies
Jan 19, 2023 05:33 AM IST
A unique arcade in the city.
Lucky Ladies. That's a shop. Full name: Lucky Ladies Tailor. Number 13 happens to be its (lucky?) address.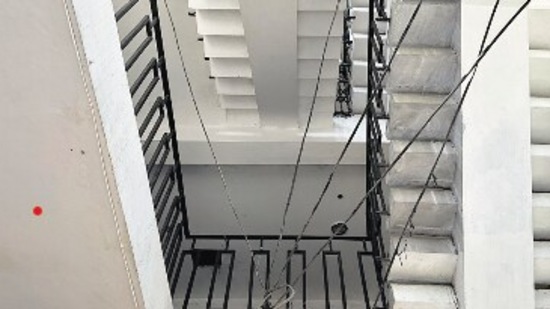 If Jane Austen were a Delhi wali, then Yasin Plaza in Gurugram would have been her go-to place. Being the pioneering chronicler of drawing room politics focused on themes as existential as the "lace upon Mrs. Hurst's gown," the English novelist would certainly have plotted one of her memorable scenes in this market of tailor-made suits and saris. One of the shops is decked with red, black, blue, yellow blouses, each neatly draped upon a wooden hanger. Another shop helps you get matching-matching sari fall for your sari border.
A maze of staircase, this multi-storey shopping plaza was chronicled in these pages a long time ago. As our pandemic-era world returns to apparent normalcy, it demands a return. Simply because in these drastically changed times, the plaza is still lying pickled in the ambiance of a long-ago time. A time when shopping arcades were free of weedy chain outlets, and each establishment was as unique as your fingerprint. Stepping inside Yasin, this afternoon in 2023, is like stepping into 1983. Each shop hoarding is uniquely eclectic with its creative use of fonts and colours. New Fashion House has "parde hee parde," boasting a choice of covers—"TV cover, fridge cover, sofa cover, table cover, gadda cover, washing machine cover, cushion cover, saree cover, etc." Sudhiksha Beauty Parlour is also a "Training Center," probably for tomorrow's beauticians. Kavya Collection is stocked with "fancy kurtis, slex, top, leggings etc." Rafiq, The Tailoring Point—proud makers of "coat, pant, safari suit, sherwani"—flaunts film star Shahid Kapoor on its painted hoarding.
But our pilgrimage must culminate at the elusive Lucky Ladies Tailor. And here it is, in a far corner of the sprawling first floor—"Boutique & Drapers, specialising in ladies suit, blouse, pealer suit." The shop no. 13 is lined with shelves over-crammed with bundles of fabrics. This afternoon, owner Arun is measuring a cloth to stitch a "ladies suit," while his colleague, Masterji Yunus, is concentrating on the sewing machine. Arun, who opened the shop 16 years ago, accepts compliments on the shop's name, but with a significant clarification: "Lucky is my son's name.