Kafeel Khan, doctor who 'saved' many lives in Gorakhpur hospital, says officials ignored pleas for oxygen cylinders
Aug 25, 2017 02:20 PM IST
Dr Kafeel Khan was found guilty of dereliction of duty by a government panel which probed the deaths of 30 children in two days at the BRD Hospital in Gorakhpur
Kafeel Khan, a doctor hailed as a hero during the Gorakhpur health crisis, has accused several senior government officials including the district magistrate of not responding to pleas for additional oxygen cylinders at the BRD hospital where 30 children died in 48 hours earlier this month.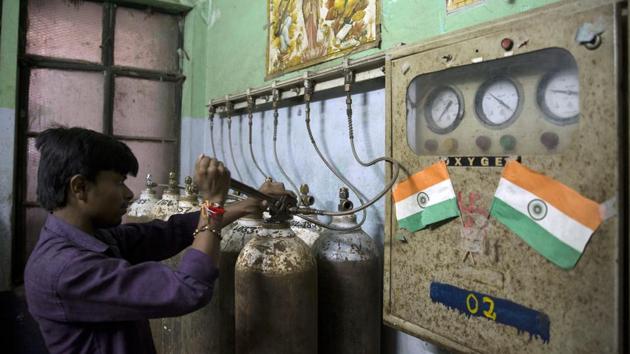 Khan is among nine people booked by police in the case over the death of children, most of them allegedly due to lack of oxygen. The deaths took place when a private comonay cut supply over a payment dispute.
In a Facebook post, which has been widely shared on social media since Thursday, Khan named the district magistrate (DM), additional director (health), chief medical officer (CMO) and chief medical superintendent (CMS) of not responding to his request for least 50 cylinders to save lives during the crisis.
The tragedy evoked nationwide condemnation following which a chief secretary-led panel took over the probe. Based on its report, Dr Khan and 8 others were booked for different charges, including negligence and private practice.
"The DM came to know about it (the crisis) by noon (of August 9), while the CMO, CMS and AD health were also informed by me on phone. I kept on begging for 50 cylinders saying children were dying but none came to help except the Sashastra Seema Bal (SSB)," Kafeel is heard saying in the two-minute long video, shot reportedly on August 19, a day before the chief secretary's report was submitted to the government.
Kafeel has also targeted director general medical education KK Gupta, who during a press conference in Gorakhpur had questioned his role as a saviour of children during the oxygen crisis.
A day after the tragedy, media reports had hailed him as saviour of children but later he was portrayed as villain for his private practice and an alleged old case of rape against him.
Kafeel claimed that he saved lives by arranging over 250 cylinders in 24 hours and not 2-3 as alleged by the DGME.
Kafeel added that his mother who was on Haj pilgrimage was worried about him and his family had to hide due to the smear campaign.
"The good wishes of the parents of children I saved during the crisis will come to my rescue, and God willing, justice will prevail," he adds.