'Come to UP': Yogi woos India Inc and Bollywood
Jan 05, 2023 10:44 PM IST
Mumbai Uttar Pradesh chief minister Yogi Adityanath met leading industrialists from India Inc on Thursday during his road show in Mumbai to invite them to invest in his state
Mumbai Uttar Pradesh chief minister Yogi Adityanath met leading industrialists from India Inc on Thursday during his road show in Mumbai to invite them to invest in his state. The two-day Mumbai visit of the CM is aimed at attracting an investment of ₹17 lakh crore to make Uttar Pradesh a $1trillion economy in the next five years.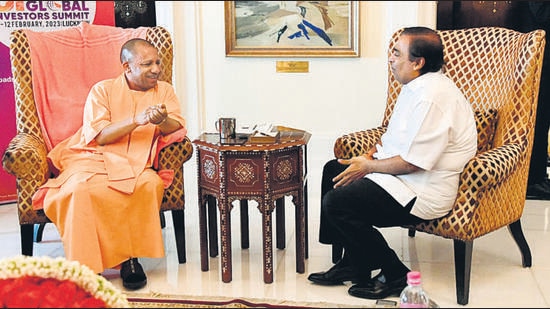 The UP government has held road shows in 16 countries and planned eight more in Indian cities ahead of the Global Investment Summit 2023 to be held in Lucknow from February 10 to 13.
Mukesh Ambani, chairman of Reliance, Dinesh Kumar Khara, chief managing director of SBI, Kumar Mangalam Birla, chairman of the Aditya Birla group, Ramesh Iyer, MD of Mahindra and Mahindra Financial Services Limited, Uday Kotak, CEO of Kotak Mahindra, and Sajjan Jindal, chief managing director of the JSW Group were the top industrialists who met Yogi at the Taj hotel in Mumbai. The CM also interacted with leading bankers on Thursday morning.
"The huge response from India Inc is encouraging for us," said Yogi, while addressing the road show. "In UP there is scope for development in every sector. Those setting up industries need fear no interference from the government. After signing an MoU, the CMO will directly monitor the progress of the project. We are providing every assistance and resource to investors in UP and they should take advantage of it."
The UP CM also met producers, directors and actors from Bollywood to invite them to the film city constructed in Gautam Buddha Nagar. Actor Akshay Kumar met the CM on Wednesday while other Bollywood personalities, including Boney Kapoor, Sonu Nigam and Kailash Kher, met him on Thursday evening.
"Uttar Pradesh won the most film-friendly state award at the 64th and 68th National Film Awards," Yogi told them. "We have picturesque locations in Tarai and the state's contribution in the art sector is significant. We are developing international airports, four-lane highways and metro lines. We are hoping for your expertise so that UP can flourish in the entertainment industry. We are offering 50 percent subsidy for web series and 25 percent subsidy for studio laboratories."
Sonu Nigam told the CM that he was "bridging two leading states—Maharashtra and Uttar Pradesh" by setting up a film city in UP. "We will wholeheartedly support you in your endeavor to make entertainment activities flourish in the state," he said. One of the film personalities, however, pointed out that UP accounted for only six percent of the total revenue from film exhibition in India despite its being the largest Hindi-speaking state in the country.
Maharashtra chief minister Eknath Shinde met his UP counterpart at Raj Bhavan on Wednesday along with Maharashtra governor B S Koshyari and deputy CM Devendra Fadnavis. Eknath Shinde demanded a piece of land in Ayodhya for Maharashtra Bhavan. "The UP government has acquired 1,200 acres around Ayodhya in which land will be allotted for the buildings of several states," said a senior UP IAS officer. Maharashtra may get a piece."
Arvind Kumar, UP's additional chief secretary, infrastructure and industrial development, said they had received a commitment for ₹7 lakh crore from their road shows in 16 countries so far. After our visits to eight leading cities in the country ahead of GIS2023 next month, we expect to surpass the target," he said.