Elderly man with 117 skins of monitor lizards arrested
Jan 03, 2023 12:10 AM IST
Mumbai: Forest officials have arrested a 72-year-old man from Malad for allegedly possessing 117 skins of monitor lizards, an endangered species
Mumbai: Forest officials have arrested a 72-year-old man from Malad for allegedly possessing 117 skins of monitor lizards, an endangered species. The accused, Bhagwant Sudam Mandalkar, used to sell 'ghumot', a percussion instrument made with such leathers, at his shop.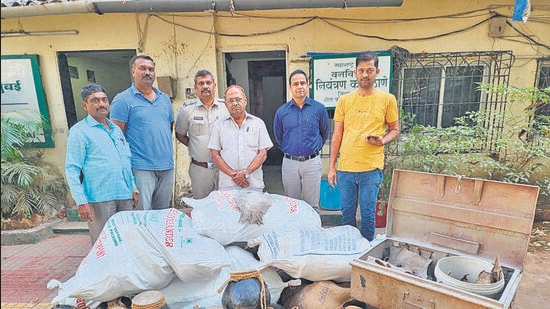 Acting on a tip-off, a team raided Mandalkar's residence on December 31, Santosh Saste, deputy conservator of forest, Thane, said. "We seized 117 skins, some of which were tied to earthen pots," he said, adding a forest offence report had been registered.
The accused was produced before a court on Sunday.
Mumbai wildlife warden Sunish Kunju said monitor lizards help control the population of rodents and insects. "There must be other leathers to make 'ghumot'. However, people who are rich and have a penchant for particular animal skins pay heavy prices for such products."
An investigation is on to find out if the 'ghumots' have been supplied in the city or outside, he said, adding, "Unscrupulous traders make a lot of money from 'hatha jodi' – the dried penis of a monitor lizard, which is touted as a lucky charm by many."
The reptile, which is mainly found in and around Sanjay Gandhi National Park, is listed in schedule I of the Wildlife Protection Act.