'He's trying to destroy Sena on Sharad Pawar's orders': Rebel MLAs hit back at Sanjay Raut
Jun 27, 2022 03:40 PM IST
Deepak Kesarkar, a spokesperson of the dissident faction, remarked that leaders of Pawar's NCP would 'fire the gun from Raut's shoulders.'
Continuing its war of words with senior Shiv Sena leader Sanjay Raut, the party's dissident faction on Monday alleged he was trying to destroy the Uddhav Thackeray-led political outfit on the orders of Nationalist Congress Party (NCP) chief Sharad Pawar.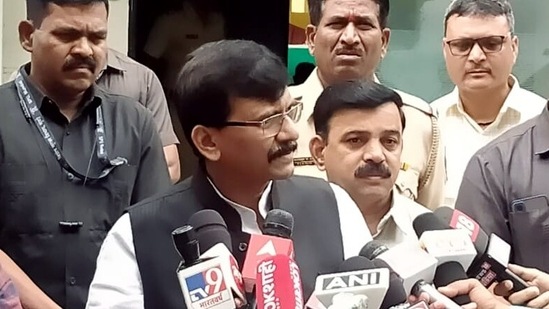 Click here for live updates on Maharashtra political crisis
"Sanjay Raut is trying to finish the party on the orders of Sharad Pawar. NCP leaders would fire the gun using his shoulders…We won't be finished. We won't stop and won't pull back until we take Maharashtra to new heights," Deepak Kesarkar, the spokesperson of the rebel Sena faction, told news agency ANI.
The Shiv Sena, NCP and Congress are the three members of Maharashtra's ruling alliance, the Maha Vikas Aghadi (MVA). The latter two have vowed they will support Maharashtra CM Uddhav Thackeray till the end.
Also Read | Sanjay Raut cooks up stories which are fit for a film: Eknath Shinde's son
Rajya Sabha MP Raut has been the face of the Shiv Sena's fightback against the rebels, holding daily media briefings, sometimes multiple in a day. Initially, he used to speak in reconciliatory tone when talking about the dissidents; however, in recent days, he has upped the ante, going to the extent of repeatedly daring the Eknath Shinde-led camp to return to Mumbai from Assam's Guwahati, where they have been camping since last week.
Also Read | Uddhav Thackeray re-allocates portfolios of 9 ministers from Eknath Shinde camp
Meanwhile, also on Monday, the two sides began their battle in the Supreme Court, where team Shinde has challenged, among other things, the decision of Narhari Zirwal, the Maharashtra assembly's deputy speaker from the NCP, to issue disqualification notices to 16 of the rebel legislators. In his notice, Zirwal gave time till 5:30pm on June 27 for the rebels to explain to him why they should not be disqualified.
Also Read | 'Won't take the Guwahati route. Arrest me': Sena's Sanjay Raut after ED summons
The Supreme Court extended this deadline till July 11. The hearing will resume on the same date.