MMRDA opens flyover for Chheda Nagar junction decongestion
Mar 14, 2022 11:23 PM IST
The flyover is part of the three flyovers planned to decongest Chheda Nagar Junction. It will be beneficial for vehicles plying from Thane, Mankhurd, Navi Mumbai and Pune towards Mumbai
Mumbai The Mumbai Metropolitan Region Development Authority (MMRDA) on Monday opened a 630-metre flyover which connects Chheda Nagar Junction in Ghatkopar to Santacruz Chembur Link Road (SCLR) flyover.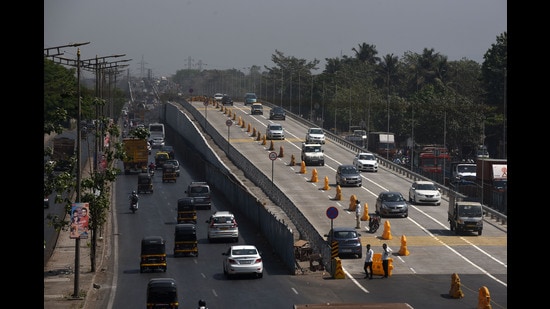 The flyover is part of the three flyovers planned to decongest Chheda Nagar Junction. It will be beneficial for vehicles plying from Thane, Mankhurd, Navi Mumbai and Pune towards Mumbai and vice-versa.
Mumbai suburbs guardian minister Aaditya Thackeray on Monday ordered MMRDA to open the flyover after criticism from several corners that the flyover was not opened as it was waiting for inauguration at the hands of a minister.
Chheda Nagar is a major junction on Eastern Express Highway (EEH) at Ghatkopar where the Mankhurd Ghatkopar link road meets EEH. After completion of Santacruz Chembur Link Road and Eastern Freeway, traffic on both these roads meets at Chheda Nagar junction.
According to MMRDA officials, the integration of all these roads at Chheda Nagar Junction, cause heavy traffic jams. To resolve this traffic issue, the MMRDA had taken up the project of Chheda Nagar junction traffic improvement by constructing three flyovers and one vehicular subway at an estimated cost of ₹249 crore. The three flyovers include one flyover of 680 metres between Mumbai and Thane direction, 1.2 km flyover between Mankhurd to Thane direction and last flyover of 630 metres between Chhedda Nagar flyover to SCLR.
SVR Srinivas, Metropolitan commissioner of the MMRDA said, "Presently, the work of Chheda Nagar flyover to SCLR connecting flyover is completed and with this, the traffic movement from Mankhurd/ Navi Mumbai - Mumbai direction and Thane – SCLR directions will get segregated as a dedicated approach to Thane – SCLR direction traffic shall be available. It will help in reducing traffic movement time as well as accident risks at junction places."
Srinivas added, "Also, the three lanes out of ten lanes of the vehicular subway on EEH are completed. After diverting traffic on these lanes, the work of the remaining lanes shall be taken up. Both these completed parts of the project are made available to traffic on Monday. The work of the remaining parts of the project is also in progress."
BJP MLA Mihir Kotecha on Sunday had tweeted saying, "The bridge on EEHighway Ghatkopar is awaiting minister to inaugurate it over a month.#Mumbaikars will save 20mins of travel time. @MMRDAOfficial open it or we will open it."
Later in the day, Aaditya Thackeray visited the spot with urban development minister Eknath Shinde who is also the chairman of MMRDA to the spot. He tweeted saying, "Minister @mieknathshinde ji and I visited Chedda Nagar flyover extension work and the new flyover at Mata Ramabai Ambedkar Nagar. On quick removal of construction clutter and assured of its readiness for use, we've asked @MMRDAOfficial to allow vehicular passage on it."
He further added, "The @MMRDAOfficial has ensured it's speedy opening and assured us of smooth passage, while on our visit, we hope to work on the underpass completion soon and the expansion of the flyover to 5+5 lanes. I'm thankful to MMRDA commissioner for responding to my humble request today. While it will be opened for vehicular traffic today, so as to avoid any additional moment of traffic build up on the road, a formal inauguration with all relevant stakeholders, elected representatives etc will be held at a nearby place soon, but there will be no delay for use."