Modi set to kick off infrastructure projects and poll campaign today
Jan 19, 2023 12:39 AM IST
When prime minister Narendra Modi will launch a slew of infrastructure projects from the MMRDA grounds at Bandra Kurla Complex (BKC) on Thursday, he will virtually sound the bugle, on behalf of the ruling alliance, for the city's biggest battle - the Brihanmumbai Municipal Corporation (BMC) poll
When prime minister Narendra Modi will launch a slew of infrastructure projects from the MMRDA grounds at Bandra Kurla Complex (BKC) on Thursday, he will virtually sound the bugle, on behalf of the ruling alliance, for the city's biggest battle - the Brihanmumbai Municipal Corporation (BMC) poll.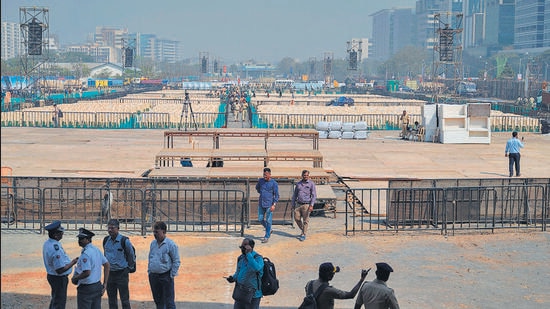 "The BKC rally is an opportunity to project BJP's pro-development face ahead of the civic polls in the Mumbai Metropolitan Region. BMC is particularly important especially after its ally Shiv Sena snapped ties with it in 2019. The party will fight to win BMC on a similar approach it took in 2020 for the Hyderabad corporation elections when almost all top leaders hit the campaign trail," a BJP leader, who did not wish to be named, said.
Chief minister Ekanath Shinde, however, said the government has been working in the people's interests and he does not eye political benefits from rolling out development projects.
"All projects had come to a standstill for two-and-a-half years (during the Uddhav Thackeray government) and they are back on track now. Some people have been criticising us for concretising city roads because they will lose out the funds they get for repairs and maintenance every year," Shinde said.
The PM is scheduled to land in the city around 5 pm, and will head directly for the BKC function. He will then throw open Metro 7 and Metro 2A to the public by taking a ride at Andheri's Gundavali Metro station. Modi is expected to leave for New Delhi around 7.30 pm.
Weeks after he launched the Samruddhi expressway between Mumbai and Nagpur and Metro lines last month, Modi will kick off several projects at the BKC rally. It is expected to be attended by at least 50,000 workers of BJP and Balasahebanchi Shiv Sena (BSS) led by Shinde.
The projects for which the PM will do bhoomi pujan are six sewage treatment plants at ₹17,182 crore; three BMC-run hospitals at Goregaon, Bhandup and Oshiwara at a cost of ₹1,108 crore; concretisation of roads measuring 400 km at ₹6,079 crore, and a makeover of CSTM station at ₹1,813 crore.
The projects that will be inaugurated are Metro 2A and 7, collectively estimated at ₹12,618 crore. The PM will also launch 20 new clinics named after Balasaheb Thackeray. Each clinic has a capacity to conduct 147 pathological tests. Modi will transfer ₹10,000 each to more than one lakh hawkers through direct benefit transfer under PM SVANidhi scheme.
City-based political analyst Hemant Desai said, "BJP and BSS have been setting a narrative that the ruling combine has been taking aggressive steps for the development of the state. In the 2017 BMC elections too, BJP leaders inaugurated several infrastructure projects. BSS on Thursday put up a grand show to welcome Shinde who returned from the World Economic Forum summit in Davos. It is nothing but an attempt to show how the government has been working hard to bring investments and developments to the state."
The civic polls are due in 23 of the 28 corporations and 25 of the 34 district councils in Maharashtra. The elections are expected to be held in April or May after the Supreme Court ruling on a clutch of petitions challenging delimitation of the wards.
BMC was ruled by Shiv Sena for over 25 years. Even after a vertical split, Thackeray faction still has a strong presence in the city and retaining power in BMC will be crucial for its survival.