Mumbai: Two foreign travellers nabbed at airport with $90,000, 2.5 kg gold
Published on Jan 24, 2023 03:06 PM IST
The arrests were made in two different incidents on January 22 and 23.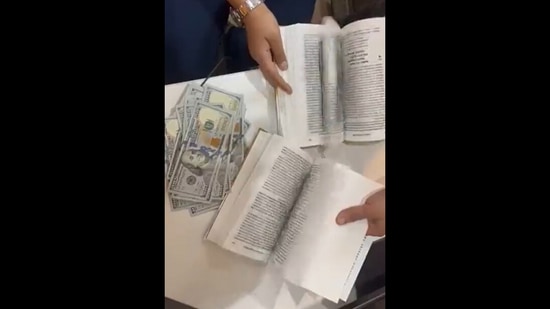 The customs department at Mumbai's Chhatrapati Shivaji International airport arrested two foreign nationals with $90,000 and more than 2.5 kg of gold in two different incidents of interception on January 22 and 23. According to officials, as reported by news agency PTI, the currency notes were concealed between pages of books by one passenger and the gold was being carried in paste form by another.
The currency notes were caught from an Azerbaijan national who was travelling from Sharjah on January 22. He was carrying around $90,000 worth cash ( ₹73 lakh) hidden in between pages of a book.
Read| Navi Mumbai airport blasts shake Belapur, NRI buildings, claim residents
In a different incident, a Palestine national was nabbed at the airport who was travelling from Dubai. He was caught with possessing over 2.5 kg gold paste. "The traveller had concealed the gold paste in his undergarment," an official told PTI.
Both the passengers have been booked under relevant sections of the Customs Act and launched further investigation.
(With PTI, ANI inputs)