Newly launched Mumbai Metro lines lack last-mile connectivity
Jan 20, 2023 05:34 AM IST
The new stations falling in the phase-2 of both these metro rail lines do not have space for regular auto rickshaw stands or those operating on sharing basis
Mumbai: Even as Prime Minister Narendra Modi inaugurated two new Metro lines on Wednesday, the absence of last-mile connectivity, for passengers after they disembark, will be a major impediment.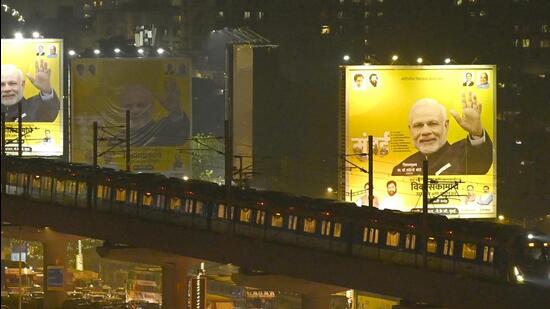 The new stations falling in phase 2 of both these Metro rail lines do not have space for regular auto rickshaw stands or those operating on sharing basis. The Brihanmumbai Electricity Supply and Transport (BEST) Undertaking will operate only three new bus routes covering Metro-2A and Metro-7 stations.
This could be a roadblock for commuters, who feel that unless design plans factor in last mile connectivity for mass transit projects, Mumbaikars might be dissuaded from using the metro rail. They believe they will have to wait on the Western Express Highway or the Link Road to find to find an auto rickshaw or a bus.
On the other hand, the suburban railway stations will continue to be a preferred mode of transit as there is ease of travel by road after stepping out of the railway premises.
When one visits the Metro rail stations, there is a wide service road below with ample space for auto rickshaws to stand in queues and for the rest of the traffic to flow smoothly. However, there is no sign of these black & yellow-coloured three-wheelers, which form an important link in the suburban public transport.
"We have been demanding for over a month that space be provided for auto rickshaw stands underneath these elevated metro stations. However, it has fallen on deaf ears," said Thampi Kurien, auto rickshaw union leader.
"There is space for at least five to seven autos to queue up at each of these stations. Also, there is scope for operating share-rickshaws connecting the metro stations with residential locales around as well as the railway stations," added Kurien.
There are nearly 2.20 lakh auto rickshaws plying in western and central suburbs of Mumbai. Of these, western has a bigger chunk with more than 1.25 lakh rickshaws plying here.
The auto unions claim that the major business hub for them is between Andheri and Borivali section that not only congested with residential colonies but also commercial offices and shopping malls are in plenty.
"It is unfortunate that the government agencies did not look at completing the loop by providing last mile connectivity. This shows that they work in silos rather than a unified working style where everything is well planned. These modes of mass transit become futile if plans are not in place once commuters disembark," said AV Shenoy, member, Mumbai Mobility Forum.
Meanwhile, the BEST Undertaking will operate three new bus routes of A-295, A-283 and A-216 that will connect stations on Metro-2A and Metro-7. The three bus routes will cover metro stations of Eksar, Borivali, Pahadi Eksar, Akurili, Kurar, Dindoshi, Dahisar (E), Ovaripada, and National Park.
The two new routes of mass transit will run for over 35 kms covering 30 stations. Line 2-A has 17 stations covering 18.6 kms and Line-7 runs 16.5 kms with 13 stations.