PM Modi to flag off Mumbai Metro lines: 5 things to know about Lines 2A and 7
Jan 19, 2023 01:36 PM IST
The two new Mumbai metro lines are set to open to the public from 4pm on January 20.
Prime Minister Narendra Modi will be in Maharashtra on Thursday to launch several projects worth around ₹38,800 crore. He will also inaugurate two metro lines, estimated to cost around ₹12,600 crore, at 6pm today in Mumbai. It is set to open to the public from 4pm on January 20.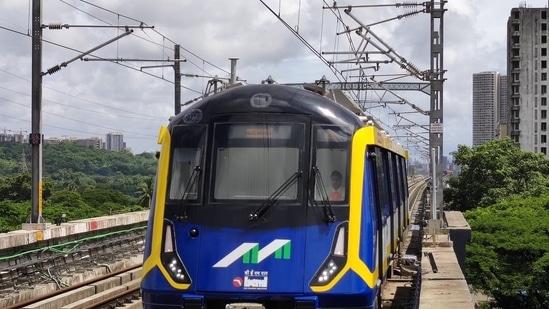 The Mumbai Traffic Police has issued an advisory banning heavy vehicles on all roads including Western Express Highway in the Western Suburb from 12pm to 9pm. Four units of State Reserve Police Force (SRPF) and one unit each of the Anti-Riot Squad and Rapid Action Force have been assigned as part of the security arrangements for Modi's visit. Police have also restricted flying activities including drones, paragliders, and remote-controlled micro-light aircraft from noon till midnight under the jurisdictions of four police stations, namely BKC, Andheri, Meghwadi, and Jogeshwari.
The PM will also inaugurate the MUMBAI 1 Mobile App and National Common Mobility Card (Mumbai 1) which can be used to buy tickets with UPI at metro station entry gates
5 things to know about Mumbai Metro lines 2A and 7:
1. The Metro line 2A (yellow line) connects Dahisar East and DN Nagar in Andheri West which is around 18.6 km long. The phase II has been extended by 9 km covering 8 stations from Andheri West to Valani. The metro line 7 links Andheri East to Dahisar East which is around 16.5 Km long. Its second phase will have four stations from Goregaon East to Gundavali which will stretch upto 5.2 km. The two Metro lines will have a new interchange station at Gundavali in Andheri East and Andheri West, as per the MMRDA officials.
2. The first metro will leave the Andheri West station at 6 am on Line 2A and the last will be at 9.24 pm. The first metro of Line 7 will start at 5.55 am from Gundavali station and the last one at 9.24 pm. The fare for the ticket is ₹10 for 3 km, with an additional charge after 3 km. As per a report, the fare for a distance of 3-12 km will be ₹20, ₹30 for 12-18 km and ₹50 for 24-30 km.
3. Cumulatively, the metro trains of these two lines will run on the 35-km elevated corridor stretch with 22 rakes having 30 elevated stations in total. It is set to run at an average frequency of every 10 minutes, depending on the time of the day.
4. Both these metro lines pass from two important roads in Mumbai, i.e Link Road and Western Express Highway. They are expected to carry three-four lakh passengers on a daily basis, reduce traffic, crowding and decrease the travel time by at least by 30-50 per cent. It aims to serve at least 10 lakh daily commuters by 2031 .
5. The coaches are 85 per cent made in India, built by Bharat Earth Movers Limited. Running at a maximum speed of 70 kmph, the train can carry 2280 passengers and has a capacity of 380 passengers per coach, as per a report in India Today. Female travellers will have a separate coach and each station will have a lady security officer and will also be equipped with CCTV systems. Although initially drivers will be in the coaches, it is designed to be driverless with an ultra modern signalling system. The foundation stone of these lines was laid by PM Modi in 2015.
(With inputs from Shobhit Gupta in Mumbai)