Noida: Offices to welcome employees back with 'natural' interiors
Dec 18, 2021 12:32 AM IST
The newest worksite of Microsoft India Development Center (IDC) is spread across 150,000 square feet at KP Towers in Sector 16-B and was launched on November 20
Inspired by Gautam Budh Nagar's Okhla bird sanctuary, tech giant Microsoft's latest office in Noida feels like a walk through nature. Wide open corridors are fitted with vibrant murals depicting the region's flora and fauna. Installations of greater flamingos, closed-winged ducks, cranes, and other bird species at the sanctuary are strategically placed to pay homage to NCR's rich biodiversity.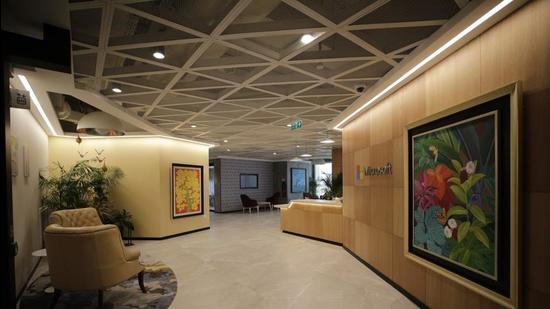 The newest worksite of Microsoft India Development Center (IDC) is spread across 150,000 square feet at KP Towers in Sector 16-B and was launched on November 20. The building's design and architecture offer a panoramic view of the Yamuna river and let employees enjoy its natural vistas and ample natural sunlight.
Stay tuned with breaking news on HT Channel on Facebook.
Join Now
Earlier in January this year, Microsoft had launched its third IDC in Sector 16-A inspired by Agra's Taj Mahal. The latest office in Sector 16-B is an extension of the same and will have departments of Cloud & AI, Experiences and Devices Group, Microsoft Digital Teams, and the new Gaming division.
Almost 6% of the office space is devoted to indigenous plants, said a statement from the company. It is also fitted with efficient water and light conservation systems.
"The expansion of the India Development Center in Noida is our continued effort to empower every person and every organization on this planet to achieve more. The excellent facilities at the KP Towers workplace provide the right environment for shaping the future of the IT industry in this part of the world," said Rajiv Kumar, managing director, Microsoft India Development Center.
Marking a confluence of modern art with workspaces, the commercial office space Max Towers in Sector 16-B is adorned with installations crafted by international artists.
"Max Towers greets you with the installation called 'Holderstebolder' at the entrance lobby, which urges one to look at life from a different perspective. Another artwork called 'Birds of a Feather Flock Together' at the reception signifies freedom and unity," said Rishi Raj, COO, Max Estates Ltd.
'Holderstebolder' is the creation of South African artist Angus Taylor that shows a man upside down, to depict art devoid of agenda in its visual parlance.
More offices in Noida are changing their interiors themed on sustainability and Indian art. Overlooking the river Yamuna, multinational software firm Esri India's office is located on the 10th floor of Max Towers in Sector 16-B, Noida and maximizes the use of natural light to save on energy.
Agendra Kumar, managing director, Esri India, said, "We have provided an environment friendly office where each employee can contribute towards a sustainable environment. We have also tried to bring nature into the workplace, which can help boost creativity and focus, making it a happy working place."
Using plants as a central theme, various partition walls at the office are made of planters while the meeting rooms are named after flowers including magnolia, dahlia, petunia, and gardenia.
In the industrial area of Noida's Sector 63, the headquarters of Everest Industries in Noida is adorned with intricate Gond artwork, which is a folk art of the Gond tribe of the Indian peninsula.
"The artwork serves as a visual backdrop for the central breakout space at the Everest Industries headquarters in Noida. The paintings are a storytelling device depicting the legacy of the firm," said Asha Sairam, principal architect at Studio Lotus that developed the design.
The pandemic has given an opportunity to firms to redesign their office space based on the new trends. While workplaces will eventually adapt to post-Covid scenarios, people's work lifestyles have drastically changed, say experts.
"Sustainability was the leading trend before the pandemic. However, the pandemic has made employers acknowledge that people and their health matter the most. As a result, employers are now focusing on the overall health and well being of their employees," said Ravideep Singh, associate director, Creative Designer Architects.