Statement 'misrepresented, distorted', says revenue minister on his 'agents of British' remark
Jan 22, 2023 10:52 PM IST
The revenue minister also clarified that his statement pertaining to 'those who ringed bells in temples" was also twisted as he had said it in the context of Uttar Pradesh chief minister Yogi Adityanath
PATNA: After stirring a controversy over his remark a day ago that those who are counted as 10% of the population were those who used to ring bells in temples and were agents of the British, an inference purportedly to upper castes, revenue and land reforms minister Alok Kumar Mehta on Sunday said that his statement was 'misrepresented and distorted'.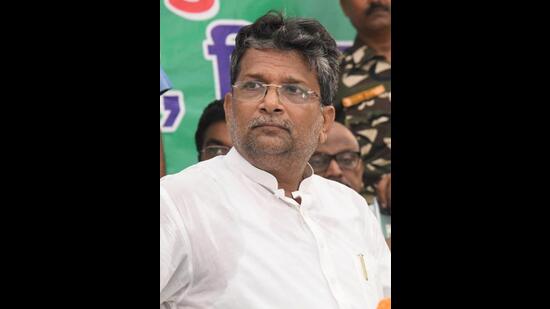 "I did not make the statement in the context of any caste. What I meant to say was that there has always been a fight between 90% of the population who have been oppressed and 10% of the population who have ruled over them. In pre-independence times, 10% of the population were British while 90% of the population were natives," he said while interacting with the media.
He also released a video to clarify his statement.
Mehta said veteran socialist leader Shaheed Jagdeo Prasad always used to say that "out of 100% population, 90% are oppressed. The rule of 10% over 90% will not be allowed", and he was just expressing Prasad's thoughts. "The composition of 90% of the population keeps changing and so is that of 10%. I have never made any statement on caste," he said.
The controversy was triggered when Mehta, a senior functionary of the RJD and former MP, was addressing a political event related to preparation afoot for celebrating the anniversary of socialist leader and former deputy CM, Jagdeo Prasad in Bhagalpur on Saturday.
Reports in the media said, the minister purportedly took a potshot at the 10% quota earmarked for the economically weaker section among upper castes from unreserved categories stating that "the 10% of the population are called EWS" and this is not good for Dalits and weaker sections. He also said the quota for backward and weaker sections was under threat, reports said.
The minister also allegedly said the British gave big land holdings to 10% of the population who continued to oppress the rest.
Significantly, the minister's statement has once again increased political heat in the state just days after education minister Chandrashekhar raised eyebrows by saying that books like Ramcharitmanas, a Hindu religious book based on the Ramayana, spread hatred just as 'Manusmriti' and MS Golwalkar's 'Bunch of Thoughts' created a social divide.
Observers feel that the statements of RJD leaders are in sync with the party's social justice agenda for backward mobilisation for consolidating the vote base among backward classes and weaker sections.
Incidentally, the revenue minister also clarified that his statement pertaining to 'those who ringed bells in temples" was also twisted as he had said it in the context of Uttar Pradesh chief minister Yogi Adityanath. "I said it in the context of the UP CM Yogi Adityanath. He was earlier a mahant in a temple and rang bells. Now, he is in power and is asking others to ring bells," he said.
Mehta said he condemns such attempts of portraying him in bad light though he always had shared good relations with all sections of society.
Meanwhile, BJP's former minister and leader of the opposition in the state legislative Council, Samrat Chaudhary said such a statement made by the revenue minister shows how RJD wants to create social tension and divide the society on caste lines in Bihar.
Defending the minister's remarks, RJD MLA Mukesh Roshan said, " The minister has said nothing wrong. This is the fight for social justice."