WATCH | TN minister throws stone at party worker, allegedly for not giving chair
Updated on Jan 24, 2023 03:44 PM IST
Tamil Nadu Minister of Milk and Dairy development SM Nasar was inspecting the arrangements for an event in Tiruvallur where CM M K Stalin was to participate on Wednesday.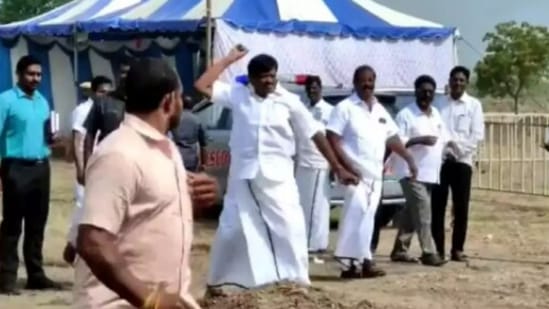 A Tamil Nadu minister on Tuesday was caught on camera losing his temper and throwing a stone at a party worker allegedly over a delay in bringing chairs for him at an event in Tiruvallur.
Read here: Delhi waits (again) for new mayor as ruckus delays polls for 2nd time: 10 points
A video tweeted by news agency ANI showed the milk and dairy development minister SM Nasar inspecting arrangements for the event - one in which chief minister MK Stalin was to participate tomorrow.
The minister apparently got angry over a party worker delaying in bringing chairs for him and hurled a stone at him. The video of the incident has gone viral on social media.
The minister also made headlines last year after allegedly spread false news that the Narendra Modi government had levied Goods & Service Tax (GST) for milk because of which the milk prices have risen.
Read here: 'Armed forces need not show proof': Rahul Gandhi on surgical strikes comment row
Saran while addressing the reporters said, "The Union Government has levied GST for milk too. It is an unprecedented incident. As a consequence of levying GST for milk, the selling price of milk has gone up."