Afghanistan skipper Asghar Stanikzai not nervous, a nation awaits historic day
Afghanistan, rapidly going up the cricketing ladder, are set to play their landmark first cricket Test against India. They will become the 12th team (not including ICC selection) to play Tests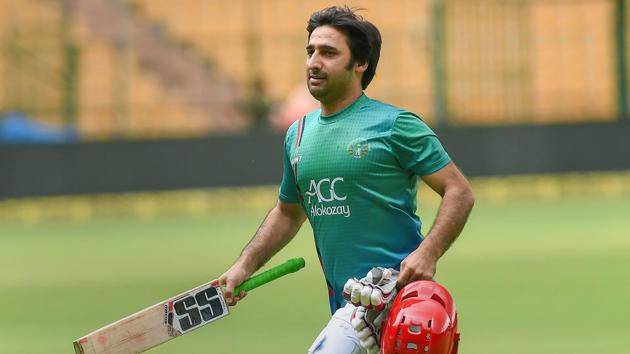 Published on Jun 13, 2018 08:12 PM IST
On the eve of their maiden Test, Afghanistan skipper Asghar Stanikzai faced a full media house at the M Chinnaswamy Stadium, but there was absolutely no sign of stage fright.
"Nervous? I am hearing it for the first time. We are well prepared," Stanikzai said. To an extent, the confidence comes from the two formats (ODI, T20) his side has played successfully and the assuredness the team has shown.
READ | Ravi Shastri wants Yo-Yo test bar to be raised ahead of ICC World Cup 2019
Coach Phil Simmons, the former West Indies opener who has also coached Zimbabwe and Ireland, also believes his wards are ready.
"Preparation has been good. We only had four players that crossed over. We still had 12-13 players training with red ball. Fortunately, the three fast bowlers were not in the T20 squad and they have been concentrating on Test preparation. The senior spinner Rashid Khan, I am sure, will be able to adjust well," Simmons said.
READ | Angelo Mathews, Lahiru Gamage out of Sri Lanka's tour of West Indies
The match has war-torn Afghanistan cued in. The skipper described the mood positive and supportive. "It is itself history that we are playing the inaugural and historical Test match against the No 1 team in the world. The mood back home is that they are very positive and supportive and looking forward for a very good performance. We will try to give good performance in the Test as well," he said.
The entire Afghanistan Cricket Board (ACB) brass is here and many top government officials are also slated to be present. Afghanistan CEO Abdullah Abdullah has carried with him a message from President Ashraf Ghani, who could attend the match if it extends to the fourth or final day.
READ | T20 to Test transition the big challenge for Afghanistan's spin trio
Simmons said mentally also the team is ready to embrace the rigours of Test cricket and hoped his players will be able to cope with the pressure.
"The mental part comes from the way you train. How long you bat, how long you bowl in the nets, how hard you train in the nets. That's the only way you prepare mentally because when you get out there, then you understand what it takes. They have played four-day first-class cricket so they have a fair idea. The good thing about it is they learn quickly," the coach said.
READ | Infuse Test cricket with T20 buzz: Kevin Pietersen
Describing the mood back home, ACB media manager Lutfullah Stanikzai said people are counting the hours and minutes for the match to start.
"It will be telecast live on a free-to-air channel and already social media is abuzz with anticipation," he said.
Close Story