Infuse Test cricket with T20 buzz: Kevin Pietersen
Updated on Jun 12, 2018 11:38 PM IST
Kevin Pietersen, former England skipper, who scored over 8,000 runs in his 104-Test career and was versatile across formats, made a plea for the game to do more to ensure the longest format that tests the character players to stay alive during the sixth MAK Pataudi lecture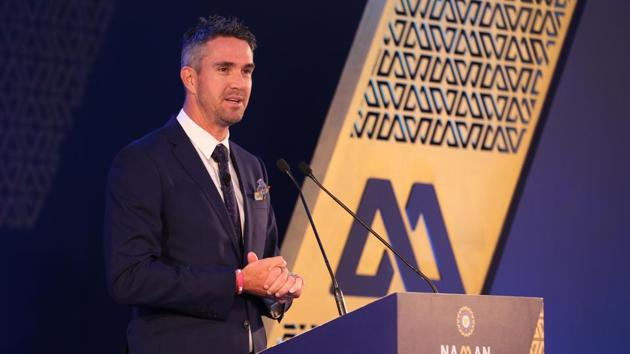 The doomsayers of Test cricket can be proved wrong only if the format replicates the entertainment quotient of its biggest threat, T20, former England skipper Kevin Pietersen said on Wednesday.
"Let's throw equal marketing clout behind the Test game before we succumb to the lazy assumption that 20-20 rules," Pietersen said while delivering the fifth Tiger Pataudi lecture in Bangalore organised by the Indian cricket Board.
Challenging existing cricket powers as well as Afghanistan, who wait to become the latest Test nation when they face India here from Thursday, he said it was vital to enhance the fan experience in the 140-year-old format just like the likes of IPL have done. He advocated day-night Tests to ensure fans came to watch the longest format, though India have been reluctant to embrace the new concept.
READ | India too experienced to be stung by Afghanistan spin: Dinesh Karthik
"To those who hear this and remain cynical. Who question the entertainment value of Tests. Who believe that I am wistful about something that will soon be associated with black and white television, fax machines and telegrams.
"I say, let's create a fair comparison. Let's not compromise entertainment. Let's put the Test fans first. Let's make Test cricket a spectacle. Garnish it with colour and fireworks. Fill the grounds. Play in the evenings. Give the umpires microphones to broadcast to the spectators. Allow sledging – as long as it remains on the right side of the line. Communicate better with the fans.
IN PICS | BCCI Awards: Virat Kohli, Harmanpreet Kaur win big on starry night
"How can we ensure that for our children's children 'cricket' will not simply be a game that takes 40 overs – or less – after work? I'm afraid the answer isn't in the hands of cricketers at all. It's in a word that makes many shudder. Commerce.
READ | All make mistakes - Darren Sammy welcomes Steve Smith's return to cricket
"We may dream that cricketers will choose to play five-day cricket because of its history and tradition, because it develops character, and because we seek to emulate the feats of Bradman, Hutton and Gavaskar. But that would be no different to asking a Bollywood star to give up the screen for work in the theatre. It may be a more classical form of acting but it offers a fraction of the rewards.
"If we wish cricketers to commit to five-day cricket, we have to pay them. How do we pay them? Simply by throwing the same commercial nous and innovation at the Test game.
"Five days of action. They provide so many opportunities. Day-night games have demonstrated the enormous leaps that are possible. The IPL doesn't play its biggest fixtures when many of its staunchest, wealthiest fans are at work. Neither should Test cricket.
READ | Didn't lose my place to a normal cricketer, it was MS Dhoni: Dinesh Karthik
"It will only be by pushing the marketing dial to a maximum that we will see if the Test game has true potential. Let's make every game count. Push the profile of the world Test championship. Develop marketing opportunities. Offer cheaper seats in the ground to provide a better spectacle for TV viewers. Is there a game anywhere quite like Test cricket in which so many people are passionate despite rarely attending a game in person?"
"Give the players a voice during play. Entertainment isn't just about hitting the ball hard or bowling bouncers. It's about creating an experience.
"And to every player thinking of sacrificing a career with the red ball to play white ball cricket, I plead with you to think again. Don't sacrifice the opportunity to really challenge yourself. Don't restrict yourself to a form of cricket that, however brilliant, doesn't require mastery of every skill. Only Test cricket can do that."
Pietersen delivered the lecture in the presence of Sharmila Tagore, wife of Pataudi. Hailing Pataudi's contribution to the spirit of cricket, he said: "(He is) a man whose passion, leadership and love of the game have crossed borders time zones and oceans."
Personalise your news feed. Follow trending topics