India too experienced to be stung by Afghanistan spin: Dinesh Karthik
Afghanistan are banking on Rashid Khan and Mujeeb ur Rahman to compete against India with both spinners in prime form in the recent T20 series sweep over Bangladesh. Indian cricket team player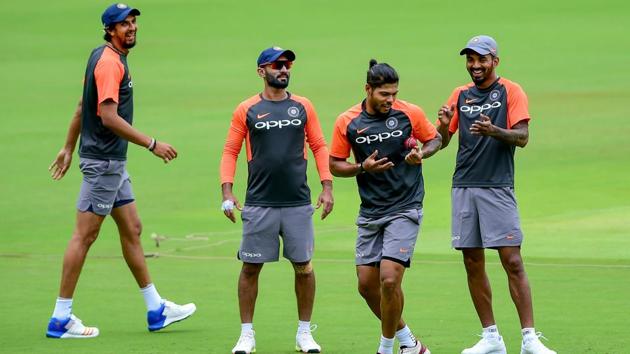 Published on Jun 12, 2018 08:31 PM IST
India have played maiden Tests against three other countries – Pakistan, Zimbabwe and Bangladesh – but somehow it's the side from war-ravaged Afghanistan, who got their first cricket lessons in Pakistan refugee camps, that are the most over-confident.
At least that is what it felt when Afghan skipper Asghar Stanikzai said his spinners are better than India's. India stumper Dinesh Karthikthough pointed out that experience matters. Not going into the nitty-gritty of the issue, Karthik dismissed Stanikzai statement adding that even someone like Chinaman bowler Kuldeep Yadav had more experience playing day's cricket then the Afghan spinners put together.
READ | Didn't lose my place to a normal cricketer, it was MS Dhoni: Dinesh Karthik
"Look, you have to understand we have a lot of experience. Not only Test cricket but also domestic cricket, lot of four-day matches. Clearly, all their spinners put together would not have played as many matches as say a Kuldeep Yadav would have. At the end of the day experience has a lot of value. We saw that with CSK in IPL. Experience pays,"Karthik said.
Afghanistan are banking on Rashid Khan and Mujeeb ur Rahman to compete against India with both spinners in prime form in the recent T20 series sweep over Bangladesh. Both have enough variations in their arsenal to trouble the finest of the batsmen, which was evident in IPL.
Karthik said eventually they might become better in red-ball cricket too but experience is something that can't be bought.
READ | Gautam Gambhir slams DDCA officials after Navdeep Saini's India call-up
"I am sure in time they will be even better bowlers than when they start off. But the point is, the kind of improvement they have shown in white ball cricket has been phenomenal. There is no reason why they cannot do that in Test cricket. But I would definitely say our spinners have a lot of experience. I'm sure their players will also vouch for that. So, I wouldn't harp too much on that statement," Karthik said.
India think-tank is however taking no chances.
Even on Tuesday, one of the four nets used for practice was blocked by the spinners. R Ashwin, Kuldeep Yadav and Ravindra Jadeja bowled together along with net bowlers. There is a threat of rain due to the monsoon and it's likely the pitch may not deteriorate that much for the spinners to be effective. Karthik praised the rise of Afghanistan cricket.
READ | All make mistakes - Darren Sammy welcomes Steve Smith's return to cricket
"It is one of the highlights for the ICC as well, to have a Test nation like Afghanistan. Their journey has been an inspiration for international cricket. Not many knew they play but for them to come in through the qualifiers and secure a World Cup berth, do so well and compete with the other teams, I give them a lot of credit. Everyone knows it's a tough place and the turmoil they are going through. In spite of that, they are able to inspire people with their performances."
Close Story
Personalise your news feed. Follow trending topics