Didn't lose my place to a normal cricketer, it was MS Dhoni: Dinesh Karthik
Dinesh Karthik, who last played a Test eight years ago, admitted that perhaps he wasn't playing well when he lost his spot in the Indian cricket team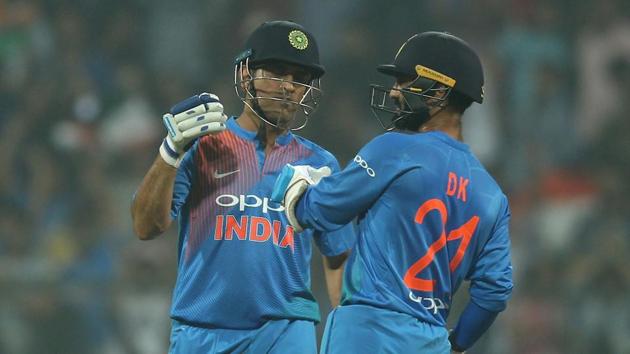 Updated on Jun 12, 2018 08:42 PM IST
It was in January, 2010 that Dinesh Karthik last played a Test. Eight years down the line, following the hard grind of domestic cricket and on-and-off call ups to the India team, the 33-year-old has yet another chance due to Wriddhiman Saha's injury as India host Afghanistan for the latter's first-ever Test starting Thursday.
Karthik had no issues over losing his Test spot to MS Dhoni, even admitting that perhaps he wasn't playing that well. With the Test whites beckoning again, Karthik looked at ease and admitted he had persevered due to the love of the game.
READ | MS Dhoni reveals batting strategy for Chennai Super Kings at IPL 2018
"It feels very good to wear the whites. To be part of the Test team is something I've always dreamt of. I guess I didn't perform well enough before. Dhoni was breathing down my neck. He has gone on to become probably one of the greatest Test captains India has produced. So, it's not that I lost my place to some normal cricketer," Karthik said ahead of India's net session at the M Chinnaswamy Stadium on Tuesday.
Karthik's big return
The pacers and spinners had a go and each batsman got extended sessions against spin, pace and throw downs as the team geared up to take on Afghanistan.
READ | Gautam Gambhir slams DDCA officials after Navdeep Saini's India call-up
For Karthik it's second wind for his career. He is hopeful his toiling in domestic cricket and experience gained will help him this time around. "It's very easy to fade away but to play for Tamil Nadu, to keep competing in Ranji, it was the challenge. Playing Test cricket is the ultimate challenge for any player. This is another opportunity for me to showcase my skills and I'm hoping to do the best I can," said Karthik, who made his Test debut in 2004 against Australia in Mumbai as a 19-year-old, only to cede his spot to Dhoni in 2005. In between, he was called in for the injured Dhoni in 2007, and a year later for the Sri Lanka tour which Dhoni skipped.
With Saha nursing an injured thumb, a good performance here is likely to propel Karthik close to selection for the England tour, with India due to play a five-match Test series.
READ | Ajinkya Rahane says it's 'a privilege' to play Afghanistan in their first Test
However, Karthik believes it's not about beating Saha to a spot but trying and doing his best.
"What I'm looking to do is be the best cricketer. If I start thinking about that aspect, then it will be subjective -- I need to score this, I need to score that. I don't want to keep it that way. I want to keep it in a way which is to try and prepare as much as I can; and given a chance, try and deliver."
Close Story
Personalise your news feed. Follow trending topics