Gautam Gambhir says sledge, but don't cross the boundary
Updated on Mar 21, 2017 07:24 PM IST
Gautam Gambhir has said that he sees no harm in sledging but stated that it should not get personal as he spoke on the controversies in the ongoing series between India vs Australia.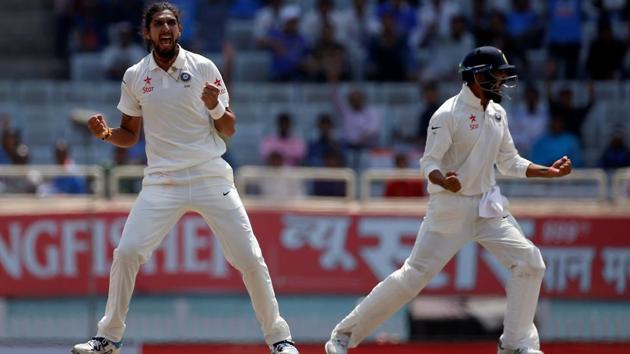 The ongoing India-Australia series has produced brilliant performances, but the cricket was often overshadowed by on-field antics or controversies.
From the DRS controversy to Ishant Sharma's bizarre sledging attempt, the battle between the cricketers was not limited to just bat and ball. These instances have drawn criticism from experts around the world, but former Delhi skipper Gautam Gambhir believes it is part of the game.
"It is fine to play hard and do whatever you can to upset the opposition till the time you don't get personal. Whatever you do on the pitch, it should stay there and if that is the case, I don't see any harm in sledging," Gambhir told HT.
The battle lines were drawn pretty early in the India-Australia Test series when Aussie skipper Steve Smith gave his players the 'green signal' to sledge the India players. Since then, there has hardly been a day of cricket which did not witness a controversial incident and both sides have engaged in verbal duels over the course of the three Test matches played till now.
However, Gambhir thinks these incidents are bound to happen in a charged up series and said it makes the game more interesting for the spectators.
"Sledging is something that makes things interesting. Obviously, these are not robots playing the game, and when you are playing for your country and there are so many expectations on your shoulder, emotions can take over sometimes."
The recently-concluded Ranchi Test was filled with impressive performances from both sides and now the two teams will head to Dharamsala for the series decider. Smith said in the post-match press conference that his team is the one which has the momentum going into the game, but Gambhir did not agree with the claim.
"India will surely start the match as favourities. They have played very good cricket in the last two Test matches and will be extremely confident going into the final encounter."
However, he was quick to point out that it will be foolish to underestimate the Australians after their show in Ranchi, and believes that the visitors have already proved a lot of experts wrong with their performance.
"We should give credit to the Australian side which has played remarkably. Most players like Harbhajan (Singh) and Sourav (Ganguly) predicted a whitewash for India, but they have proved themselves brilliantly and with everything on the line, Australia will be a tricky opponent," he added.
Personalise your news feed. Follow trending topics