India vs Australia: Steve Smith says sorry for 'letting his emotions slip'
Published on Mar 28, 2017 03:41 PM IST
Steve Smith believes that the Test series against India has been a huge learning curve for him, but is also apologetic for the times when he let his emotions slip.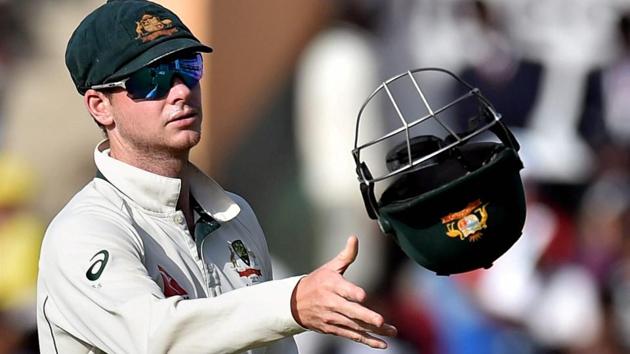 Australia cricket team skipper Steve Smith apologised for letting his "emotions slip" during the aggressively-contested Test series against India, saying that he was in his "own bubble" at times. (HIGHLIGHTS)
"I am proud of my performances in this series. I set myself high standards and I wanted to lead from the front with my performances. I have been very intense in my own little bubble and at times I have let my emotions and actions just falter a little bit throughout this series and I apologise for that." (SCORECARD)
" That's a big stride for me moving forward and something I can really learn from and continue to grow as an individual and as a leader.", he added.
The Aussie captain also rued Australia's batting collapses in the final Test against India in Dharamsala and added that losing wickets in clumps was a major factor behind the series loss.
READ | Australian cricketers are no longer friends, fumes Virat Kohli after Dharamsala shootout
On Day 1, Australia had moved to 131/1 but Kuldeep Yadav's 4/69 resulted in a collapse which saw the visitors being bowled out for 300. On day 3, Australia were blown away by a combination of pace and spin as they lost 7/50 to collapse to 137 and hand India the match and the series.
In the post-match press conference, Smith said, "That was an opportunity where we could've really driven the game. Had we gone on to score 400-450, it could have been a different ball game. It was disappointing that we weren't able to take advantage after being 131/1. You tend to lose wickets in clumps while playing in India."
The Australian skipper said that maintaining a long period of consistency was the key for Australia to win. "We haven't been able to take advantage when we have been in front. We just needed to execute the plans a little bit longer and be a bit more consistent. We had our moments to win but have not taken those opportunities against a quality opposition like India."
End of the world in Hobart
Following the 3-0 whitewash to Sri Lanka, Australian cricket was plunged into crisis when they were blown away by South Africa. Their losses in Perth and Hobart was their third straight loss to the Proteas in their own den and this resulted in dramatic changes, including bringing in players like Matt Renshaw and Peter Handscomb. Smith said that he was proud of the efforts and added that the team had made giant strides in this series.
READ | India vs Australia: Steve Smith says why Indian cricket team hurt Aussies
"This team has grown so quickly. We are still a very young side, it wasn't too long ago we were at Hobart and it was the end of the world. I am proud of the way we have been able to turn things around and really compete in these conditions. We were written off before the start but the way we have been able to compete in each and every Test, it has been great to be part of. It was a fantastic series played in a good style," the Australian skipper said.
Personalise your news feed. Follow trending topics