India vs England: Time for India to make up mind on Shikhar Dhawan
A slightly better preparation and better team selection could've allowed India to create history in South Africa. However, since that didn't happen, the focus is on the English summer.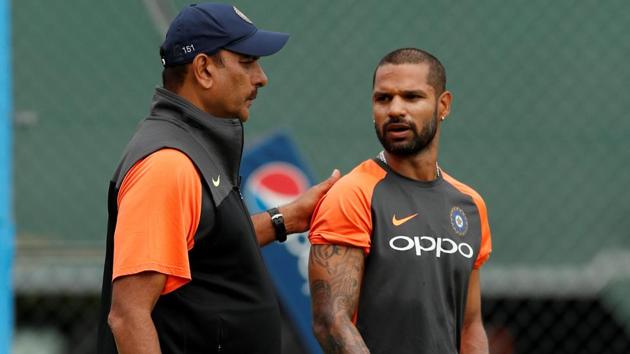 Updated on Aug 01, 2018 01:33 PM IST
India and England shared the honours in white-ball cricket with India clinching the shortest format and the world's best ODI side showing why it is rated so highly in the 50-over format. Now, both teams are set to lock horns in a five-Test series.
India are the No 1 Test side in the world but still have a lot to prove overseas. A slightly better preparation and better team selection could've allowed this team to create history in South Africa.
However, since that didn't happen, the focus is on the English summer. After all, the best side in the world should be good enough to win in all conditions. England, on the other hand, don't lose a five-Test series at home that often but they do face a few issues.
Make up your mind on Dhawan
He's the kind of batsman who can put the opposition on the backfoot —someone who has the ability to change the complexion of the game in a session or two. He's done that many times in Test cricket but, it has happened only in the subcontinent. While he's a certainty to play Tests in the subcontinent, it's a different story overseas.
ALSO READ | India vs England: Virat Kohli says 2014 failure not on his mind ahead of Edgbaston opener
Even though he starts every overseas series as the preferred opening partner of Vijay, it takes only a couple of failures for him to be ousted from the side. It has happened in South Africa, England and Australia. After his returns in white-ball cricket and a century against Afghanistan, he has, once again, started the tour as the preferred choice. But his performance against Essex, where he bagged a pair, might have already sown the seeds of doubt in team management's mind.
India need to make up their mind about Dhawan and his utility as a Test opener, for going round and round in circles isn't helping him or the team. Not to forget that Rahul is presenting an equally, if not better, option.
Bhuvi and Bumrah's Absence
India fielded four fast bowlers against South Africa in the third Test of the series and, believe it or not, Umesh Yadav still didn't feature in the XI.
ALSO READ | Virat Kohli and co. brace for trial by fire as England pace test awaits
Now, he starts as one of the two straightforward choices along with Ishant Sharma. Injuries to Bhuvneshwar and Bumrah and Shami's loss of rhythm have made a significant dent in India's ability to strike with the fast bowlers.
Ideally, this should mean playing three fast bowlers, for you often try to make up for quality with quantity but the third choice seamer isn't tempting enough to be fielded. It'll be a toss-up between Shami and Shardul, and both aren't giving a lot of confidence at the moment.
Also, Bhuvneshwar's presence made it easier for Kohli to field five bowlers, for you could expect 50+ runs between him and Ashwin. His absence would make the tail start right after Ashwin, who'll be slated to bat at No 7. It'll be interesting to see how the team responds to this new challenge—maybe it's time to field two spinners in England and hope that Hardik's bowling abilities will make up for the lack of the 5th bowler.
(Aakash Chopra is a former Test opener and is writing exclusively for Hindustan Times. Views expressed are personal)
Close Story