India vs New Zealand 5th ODI at Wellington, Highlights: Rayudu, Chahal shine as India win by 35 runs to take the series 4-1
Highlights: India beat New Zealand by 35 runs in the fifth one-day international in Wellington on Sunday to wrap up the series 4-1. Ambati Rayudu top scored with 90 in India's innings of 252, while the hosts in reply were all out for 217 in the 45th over. (Full scorecard)
Follow Ind vs NZ highlights below: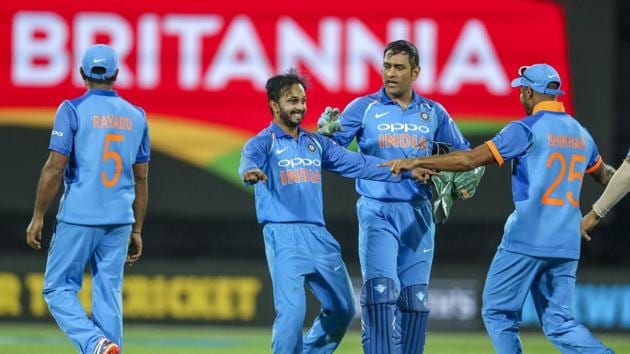 Updated on Feb 03, 2019 03:51 PM IST
15:27 hrs IST
We showed a lot of character, says Rohit Sharma
"Especially after the Hamilton loss, that was a big loss for us the way we lost there. At the toss I said we needed to come together as a team and we did that. Four down, we needed someone to apply, and Rayudu and Vijay Shankar did that. The way Hardik and Kedar played was magnificent. We showed a lot of character. With the ball as well. The wicket got flat at the end, with the dew. At one point it looked like it would be an easy chase. But lot of people put their hands up and got us through. I knew there was some moisture in the pitch. If the series was on the line, I would've batted second. Wasn't easy after losing four wickets at the start. Thought 250 was a very good score on that pitch. Bowlers got crucial breakthroughs at critical times. When you want to win games, you've got to find the right balance. Coming here and beating NZ at home wasn't going to be easy. The achievement we've had today is a great achievement to have," says Rohit Sharma.
15:24 hrs IST
India have taught us a lesson, says Williamson
"It was a different surface which certainly was a challenge. We saw that with the ball in hand. Got away from us towards the end which probably took them at par or probably more. Scoring rate never got away from us but it was just that we lost wickets at the wrong time. They did it pretty well through Rayudu with 90. For long parts they didn't score. We knew it was going to be tough. We know how well India bowl on any surface. Their accuracy. If we could've taken the partnerships deeper, like with Tom Latham and myself, it could've been different. Credit to India throughout this series. They've taught us a few lessons in our own conditions. They're a world class outfit, they deserve the series win. We need to learn from these lessons. It's a game of pressure. Throughout this series, they had us under more pressure than we would've liked," said New Zealand captain Williamson.
15:19 hrs IST
Mohammed Shami named player of the series
Mohammed Shami is named the player of the series as he finishes as the second highest wicket-taker in the ODI series. He picked up nine wickets in four matches at an average of 15.33.
15:17 hrs IST
Ambati Rayudu named player of the match
Ambati Rayudu is named the player of the match for his innings of 90 runs from 113 balls. India were struggling at 18/4 and his innings helped India reach a respectable total of 252.
"It was very tough against a quality bowling attack. Was thinking we should take the game to 30th over without losing another wicket. Our only plan was to play the full fifty overs. Especially for people batting at four, five and six, you get opportunities only when the situation is tough. Don't think setting totals has ever been an issue. That was a one-off game in Hamilton. Might face similar challenges in future. Great effort by our bowlers," said Rayudu.
15:06 hrs IST
Boult falls, India win by 35 runs
Trent Boult tries to hit a big shot and in the process, presents a catch to Mohammed Shami at third man. New Zealand are bowled out for 217 runs. India bounce back beautifully from the last ODI and win this one by 35 runs. They take the series 4-1.
15:02 hrs IST
Henry hits consecutive sixes
Matt Henry is taking his chances here. He smashes Hardik Pandya for consecutive sixes. First he pulls a delivery for six over cow corner and in the next ball Henry hots one over square-leg.
15:00 hrs IST
Santner goes for 22
Hardik Pandya bowls a half volley and Santner hits the ball straight to Mohammed Shami at short fine-leg. Santner goes for 22 and New Zealand lose their ninth wicket!
14:48 hrs IST
Chahal traps Astle LBW
Todd Astle goes for a sweep shot and misses the ball completely. Chahal strikes him on the pads and appeals for a LBW decision. The umpire doesn't take much time to raise his finger. It looks plumb but Astle still reviews the decision. Replays show that the ball would have hit the stumps. New Zealand lose their eighth wicket for 194 runs.
14:42 hrs IST
India in complete control
Mitchell Santner and Todd Astle are not able to get the big hits in this stage of the match. It's just a matter of time before the Indian bowlers wrap up the innings. New Zealand: 189/7, need 64 runs off 60 balls.
14:27 hrs IST
Dhoni runs out Neesham
Kedar Jadhav struck Neesham's pads and the Indians went up for an appeal. When the umpire ruled it not out, Neesham for some reason moved out of his crease and Dhoni quickly picked up the ball and hit the stumps. Neesham was way outside the crease. He goes for 44. The Kiwis need 75 runs from 78 balls.
14:23 hrs IST
Six and a four for Neesham
Neesham first flicked a delivery from Bhuvneshwar Kumar through the mid-wicket region for a boundary and then in the next ball he hit a six over the square-leg region. Neesham could single-handedly win the game for his team. The Kiwis need 77 runs off 83 balls to win.
14:16 hrs IST
Neesham cracks consecutive boundaries
Neesham is looking terrific at the moment. First, he dragged a ball from the off-side to hit a boundary in the deep-midwicket region and in the next ball the batsman strikes another four through the point region.
14:09 hrs IST
Neesham dispatches Pandya
Neesham picks the length ball and dispatches it over the deep mid-wicket boundary. If Neesham gets going then India could be in trouble.
13:55 hrs IST
Chahal gets Grandhomme
The quicker one is slid through as Grandhomme fails to get the bat down in time. Hits the batsman right in front of the wicket. Grandhomme goes for 11 as he does not even look to review that. The Indians are celebrating as the Kiwis have lost their sixth wicket here. Brilliant bowling by the Indians here.
13:45 hrs IST
Chahal gets Latham
This is trapping the Kiwi batsman right in front of the wicket. Chahal gets his man and the first wicket of the game. Latham doesn't take the review here as he walks back for 37. New Zealand's score reads 119/5. The Indians have clawed their way back into the game.
13:37 hrs IST
MS Dhoni appeals confidently
MS Dhoni thinks he has effected a stumping as James Neesham misses a ball from Yuzvendra Chahal. Dhoni took off the stumps as he saw Neesham struggling to get back into the crease. However, replays show that Neesham is safely in and New Zealand are at 111/4 in 27 overs.
13:32 hrs IST
Jadhav does the trick for India
Kedar Jadhav gets the breakthrough for India! Kedar Jadhav bowls a slower one and Williamson looks to send the ball over the mid-wicket boundary but isn't able to hit it hard enough as Shikhar Dhawan takes an easy catch. New Zealand: 105/4.
13:25 hrs IST
New Zealand reach 100/3 in 24 overs
Williamson and Latham have put New Zealand in the driver's seat as the team reaches 100/3 in 24 overs. The Kiwis need 153 runs from 26 overs to win the fifth ODI.
13:19 hrs IST
Williamson and Latham bring up 50-run stand
Williamson and Latham have consolidated the innings with a 50-run partnership. If these two continue to bat then New Zealand will surely win the match. India need to pull things back with a couple of wickets.
13:06 hrs IST
Latham pulls Chahal for a crackling boundary
Yuzvendra Chahal drops the ball a little short and Latham rocks back and pulls it away for a boundary. Latham and Williamson are looking comfortable at the crease as they near a 50-run partnership. India will have to break this partnership quickly.
13:02 hrs IST
Confident shots from Williamson
Vijay Shankar offers a little width and Williamson cuts it away for a boundary confidently. In the very next ball, the skipper dispatches the ball through an on drive for another boundary.
12:58 hrs IST
Latham clips Pandya for a four
Tom Latham gets on top of a delivery from Pandya and clips it down the long-on boundary. This partnership is starting to look threatening for India.
12:48 hrs IST
Williamson hits his first boundary
Williamson finally manages to send a delivery to the fence. Pandya bowls a slightly short delivery and the skipper guides the ball to the fine-leg boundary. New Zealand: 49/3 in 15 overs.
12:42 hrs IST
Williamson and Latham play cautiously
Kane Williamson and Tom Latham are looking to stay at the crease for as long as possible. They are surely trying to frustrate the Indian bowlers until they crack and start bowling loose deliveries. The New Zealand captain is batting on 7 off 30 balls, while Latham is on 2 off 10 balls. New Zealand: 42/3 in 13 overs.
12:29 hrs IST
Pandya strikes!
Hardik Pandya comes into the attack and picks up New Zealand's in-form batsman Ross Taylor straight away. Taylor was beaten for pace as the ball struck his pads in front of the wickets. New Zealand in deep deep trouble now. However, the replays show that the ball would have gone above the stumps. The Kiwis miss a trick here as they decided not to take a review.
12:22 hrs IST
Shami sends Munro packing
Mohammed Shami bowls a short of a length delivery and Munro drags the ball onto the stumps. India have another wicket! New Zealand's best batsmen - Kane Williamson and Ross Taylor are at the crease at the moment. New Zealand: 37/2 in 9.1 overs.
12:17 hrs IST
Munro looks to go big
Colin Munron smashes Bhuvneshwar Kumar for a boundary through the leg side off the second ball of the ninth over. In the very next ball, Munron hits the ball over the bowler's head, but isn't able to put enough power behind the shot for a boundary.
12:06 hrs IST
Williamson gets lucky
Shami drops the ball a little short and Williamson inside-edges it towards fine-leg. The ball just misses the stumps as Shami jumps in anticipation. New Zealand: 24/1 in 6 overs.
11:57 hrs IST
Nicholls falls for eight
Henry Nicholls doesn't get into a good position to play the pull shot and hits the ball straight to Kedar Jadhav off Mohammed Shami's bowling. India get the breakthrough they were looking for. New Zealand: 18/1
11:53 hrs IST
Munro smashes a six!
Munro times the ball brilliantly and dispatches it over the long-on boundary off Bhuvneshwar Kumar's bowling. The Kiwis are off to a good start with 18 runs from 3 overs.
11:48 hrs IST
Nicholls hits a beautiful shot
Henry Nicholls plays a beautiful cover drive off Mohammed Shami's bowling and picks up New Zealand's first boundary in this innings. The Indian bowlers will have to be consistent with their lines and lengths to take early wickets.
11:40 hrs IST
Munro and Nicholls start New Zealand's chase
Colin Munro hits the ball high in the air but falls safe in the deep cover area. The opening batsman will look to play positively as the Kiwis look to chase down a target of 253.
10:59 hrs IST
Quick end
Well, Bhuvi departs soon after Hardik and then Shami has been run out by an athletic Trent Boult. India have been dismissed for 252, a score which looked a distant possibility at 18/4. But it was the Ambati Rayudu-Vijay Shankar partnership which bailed India out of trouble after which Rayudu and Hardik Pandya exploded to drag India past 250. It could be a competitive score on this pitch. Over to the bowlers now!
10:53 hrs IST
Hardik ends
He was good... very good. Stunning innings, but will be disappointed with his dismissal. A full toss that deserved to be carted into the stands, has been gobbled up Trent Boult running back
10:42 hrs IST
Hardik goes big
6, 6, 6 and Pandya has teed off. Astle gets the treatment as India march ahead after the Jadhav dismissal. Good boost towards the end of the innings
10:34 hrs IST
Henry strikes
Length ball on off stump, Jadhav was back in his crease and looked to flick it,or pull it, ends up doing neither as the ball takes the inside edge and rattles the stumps. Big wicket at this juncture of New Zealand as India look to accelerate
10:25 hrs IST
Rayudu departs
End of a stunning innings by Rayudu. He wanted to tonk the full ball over mid off, skews it to cover point and a century goes begging. Special innings, warded off the initial threat and then exploded towards the end.
10:13 hrs IST
Rayudu goes big
Colin Munro was frugal in his 9 overs, but Rayudu has taken 15 off his final over. India have increased the pace of the scoring rate. They need to now time this final assault nicely
10:09 hrs IST
Increase in intensity
Both Rayudu and Jadhav are playing few more strokes. India need to target a score around 250 and with Hardik Pandya in the dressing room they should look to up the ante
9:53 hrs IST
Rayudu counter-attacks
The right-hander has looked to be positive and has smacked two fours in that over. He holds key to India's fortunes and in many ways, can seal his berth for that World Cup squad. Has been an assured innings so far from Rayudu
9:39 hrs IST
Oh dear, Shankar is run out
Length ball tapped to mid on, Shankar takes off, Rayudu says no and then rushes ahead. Shankar has to run past him, but he is well short of this crease and Munro breaks the stumps. Good partnership comes to an end, very timely wicket for New Zealand
9:29 hrs IST
100 raised for India
Short ball outside off, Shankar sits back and slaps it past point and short third man. Ball scoots past for four and India's 100 is raised. Just the partnership India wanted after the early collapse. They need to keep the fight on
9:18 hrs IST
50-run stand raised
Shankar and Rayudu rebuilding IND innings.
1st fifty runs stand between the two.
3rd in last 5 ODI innings

9:08 hrs IST
Rayudu breaks free
He has come down the track a number of times and this time, middles his attempted slog. Biffs it over long on for the first maximum. Change in intent?
8:53 hrs IST
Shankar chugging along
Length ball angled in, Shankar neatly clips it away. Rayudu then taps one length ball back down the ground. This pair is looking ok right now for India. They need to carry on and on
8:41 hrs IST
Shankar, Rayudu watchful
The movement has died down and both batsmen are content in seeing off this phase. India need to post a score, something the bowlers will have to bowl
8:15 hrs IST
Dhoni bowled
Length ball, angled in, continues nipping in, and the late swing has beaten even MS Dhoni. He takes the walk back, India on the mat. Sensational bowling
8:01 hrs IST
Shubman Gill departs
Well, shades of Hamilton, Gill chips uppishly and is caught at short over. Santner takes a smart catch, India in trouble now. The ball is doing just a little bit and India are all over the shop. They need to arrest this collapse, they need to do it now
7:56 hrs IST
Dhawan departs
Shikhar Dhawan wants to go up and over, but is caught at third man by Matt Henry. Boult strikes, India in early strife. This is not a small ground and it was good field placement by Kane there. Nervous times, most certainly, both openers depart and the middle order will be tested here
7:49 hrs IST
Rohit bowled
Wow, that was a ripper from Matt Henry. Pitched on middle stump and then seamed away late to take the off stump. Rohit's feet were not in the perfect position and he has missed the ball completely. India lose their 1st wicket and are already under pressure
7:38 hrs IST
Boult on the money
There is the movement, there is the skill of Trent Boult. Pitching the ball on a length and then getting it to shape back in. Beats Rohit and then hits on the pads, huge appeal belted, but it was a tad too high says the umpire. But, Boult is on song from the first ball
7:34 hrs IST
Quiet 1st over
Movement for Matt Henry, Rohit gets beaten and then gets a cut which was fielded well at point. India open their account. The crowd is slowly building up at Wellington
7:29 hrs IST
Players march out
Kane Williamson leads his side out, Rohit Sharma and Shikhar Dhawan trundle out too. This pitch will have assistance for the bowlers and the openers have their task cut out
7:09 hrs IST
Playing XIs
New Zealand (Playing XI): Henry Nicholls, Colin Munro, Kane Williamson(c), Ross Taylor, Tom Latham(w), James Neesham, Mitchell Santner, Colin de Grandhomme, Todd Astle, Matt Henry, Trent Boult
India (Playing XI): Rohit Sharma(c), Shikhar Dhawan, Shubman Gill, Ambati Rayudu, MS Dhoni(w), Kedar Jadhav, Hardik Pandya, Vijay Shankar, Bhuvneshwar Kumar, Mohammed Shami, Yuzvendra Chahal
7:05 hrs IST
Rohit wins the toss
We will bat first, want to test ourselves on this pitch which has a little bit of moisture, says the captain.
Rohit: We are looking to bat first. Seems a good pitch, might have some moisture but we want to test ourselves in such situations. After the humiliating looss the other day, we want to put up a bigger show. We have three changes. MS Dhoni for DK, Shami for Khaleel and Vijay Shankar for Kuldeep. We had a few training sessions and it's not like the guys haven't been in such situations earlier. If we had got about 180-200 last game, things would have been different. We admit we made mistakes and boys are determined. Important to assess conditions these days in the first 6-7 overs and take it on from there. If we bat well, we might get a good score.
6:48 hrs IST
Numbers that matter
287: Average first innings score at Wellington extrapolated over last 10 ODIs is 287 excluding rain-affected matches.
1: Rohit Sharma (215) needs 1 more six to have most sixes smashed by an Indian in ODIs, he will surpass MS Dhoni (215).
3: Kuldeep Yadav needs 3 more wickets to complete 50 away wickets in ODIs.
90.16: Rohit Sharma's batting average as a captain in ODIs.
6/10: Team batting first has won 6 out of the last 10 ODIs played at this venue.
23.89 vs 44.88: Latham's batting average at home vs his average in away conditions
6:45 hrs IST
Wellington basking in sunshine
One final overseas ODI before the World Cup... Hellos from Westpac Stadium! #NZvInd pic.twitter.com/p9Ox4in47a

— Chetan Narula (@chetannarula) February 3, 2019
6:32 hrs IST
Hello and welcome
After the sensational meltdown in Hamilton, the Indian team now need to get its act together and deliver a final punch to end the series on a high. It will be a test for captain Rohit Sharma, but now he will have the company of MS Dhoni, who returns to the side after being declared fit. For New Zealand, the brief is quite simple - target the top order and then apply pressure on the middle order. After the win in Hamilton, they have all the momentum in this match which makes the contest very interesting.
Good morning and welcome to the live coverage of the 5th ODI match between India and New Zealand from windy Wellington
Close Story
Personalise your news feed. Follow trending topics