India were on top from start of 3rd Test: South Africa captain Faf du Plessis
Updated on Jan 28, 2018 09:35 AM IST
Faf du Plessis-led South African cricket team lost the third and final Test to India by 63 runs at the Wanderers on Saturday.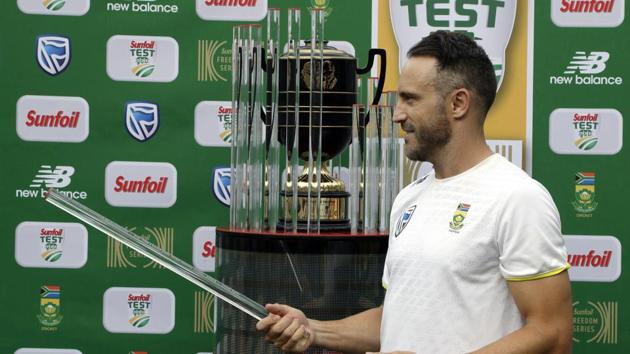 South Africa captain Faf du Plessis said they didn't lose the third Test on the fourth day but rather from the start when their bowlers couldn't dismiss India to a more gettable total in the first innings.
"To be hard on ourselves, pretty much from the start of the Test match we weren't on top of our game. Even the first innings, the total that they got 189 or whatever, it was probably 30 runs too many. Top of my head I can remember Virat having 2-3 chances. So all of that, on a low scoring wicket, it all adds up," said du Plessis after the match ended on Saturday.
READ | Virat Kohli believes 3rd Test win was very important from Indian cricket team's point of view
"Even the second innings they got 220, they should have been 180. So the last innings we should have chased 160 or something like that. All in all, it wasn't a great Test match for our skills. Both innings, we were a little bit short and wide for most of the Indian innings, which gave them the opportunity to leave a lot more. From a batting perspective we felt that the Indian bowlers made us play a lot more."
India have never lost at the Wanderers and du Plessis said the onus was on them to find out what made it work for India here. "As I said before the Test match, you just have a ground where you play better at. And I mentioned us as an example, we haven't lost a game in Perth. I don't know what the reason is. You're just successful as a team. Obviously it's got something to do with the conditions here. The Indian bowlers are very successful in these conditions. So that's something we've got to remember when we play them here next time, that why is it that they are successful here," he said.
READ | Indian cricket team retain ICC Test Championship mace after Wanderers Test win
Set a difficult 241 to win, South Africa needed a good partnership to start with and they had that too when Hashim Amla and Dean Elgar stitched 119 runs for the second wicket. "Mentally, we wanted to have one partnership and Dean and Hash played really, really well. Then the nature of how the game and wickets progressed, it gets a bit tricky in evening. But the partnership the two of them put on was extraordinary, especially after last night. It takes two very, very strong minds to get through something like that to come back the next morning and score runs. So, although we're very disappointed with the loss, there's a lot of credit that goes to the two of them," he said.
READ | Virat Kohli says win at Wanderers vs South Africa 'massive milestone' in India's journey
But du Plessis also felt they shouldn't have prepared pitches that closed the gap between teams with regards to bowling resources. "As I said before this Test in the press conference that certainly we know that if you ask for a wicket that has got a lot of assistance on, you are bringing the Indian seam attack into it. They are very skilful, they bowl a touch a fuller and are obviously used to bowling in Indian conditions where you have to attack the stumps, and they move the ball around both ways. That's what happened in this Test. Quite excessive movement. And although I would say that wasn't good enough, on our performance, we were outplayed by India," he said.