Kuldeep Yadav's four-for turning point of Dharamsala Test: Ajinkya Rahane
Published on Mar 28, 2017 05:25 PM IST
Ajninkya Rahane, India's stand-in captain in the Dharamsala Test , lauded debutant Kuldeep Yadav's superb effort in the first innings, where he took four wickets.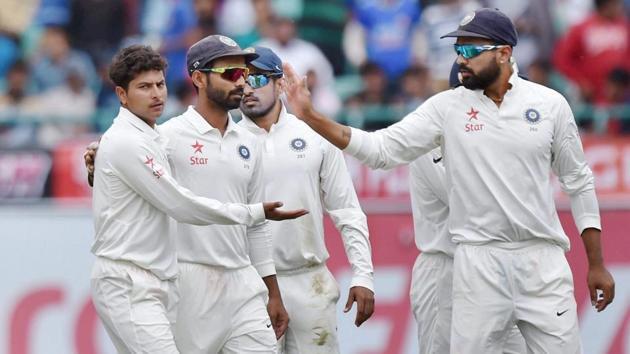 India's stand-in skipper Ajinkya Rahane credited Kuldeep Yadav's incredible performance on the first day of the fourth Test in Dharamsala for swinging the tie in India's favour when the hosts looked to be in a sticky situation.
India eventually won the four-match series and reclaimed the Border-Gavaskar Trophy by beating Austrlaia by 8 wickets in the fourth Test in Dharamsala. However, the match began with some nervy moments for the Indian team and they needed a stellar performance by Kuldeep who was playing his debut Test match.
Read | Kuldeep Yadav's lethal spell and other key moments from Day 1 in Dharamsala
"We decided during lunch [on day one] that to stop their runs, we had to pick up just one wicket. We knew at that point that only David Warner and Steve Smith were the ones scoring runs in their side, so we had to take one of their wickets and capitalize on that. And after lunch, the way Kuldeep Yadav bowled in a pressure game which was also his first game, he deserves credit. Hats off to him, and the rest of the bowlers whop chipped in the first innings," Rahane told former India cricketer and commentator Ravi Shastri in the post-match interactions.
Read | Kuldeep Yadav: Son of brick kiln owner makes his family proud vs Australia
"We knew that Kuldeep was bowling really well in the nets and he has the X factor in him. We all have confidence in him. I knew that if we picked up one wicket, we would be on top and he did that for us. And I felt the other bowlers supported him to keep up the pressure as well."
Fast bowlers' role
Further, Rahane felt that credit had to be given to the fast bowlers of the side, not just for stabilizing the final Test but for their work throughout India's home season.
"It was fantastic to see Umesh Yadav, Bhuvneshwar Kumar, Ishant Sharma, Mohammed Shami and all other fast bowlers performing well on Indian wickets throughout the season. It was wonderful o see them perform while I was in the slip and gully region."
Rahane helped close out the game with a quick 38-run innings off 27 balls, including four 4s and two 6s. When asked about the urgency, he recollected a previous match when India had failed to take imitative at a breakthrough moment of the match.
"In low scoring games we know that we just need 30-40 quick runs in the middle. I was just thinking about the Sri Lanka game because when we were chasing 130-odd runs we were beaten because we didn't take advantage when we could. I just wanted to take that momentum forward and capitalize on that here today. But Rahul from the other end played really well too. I just had to take my chances when I had them. Credit to Australia, they played well here in India and gave us a fight."
Personalise your news feed. Follow trending topics