Delhi Daredevils vs Kolkata Knight Riders, IPL 2018, highlights: Iyer, Shaw shine as DD beat KKR
Apr 27, 2018 11:50 PM IST
Get highlights of Delhi Daredevils vs Kolkata Knight Riders, IPL 2018 here. Shreyas Iyer and Prithvi Shaw scored half centuries as DD beat KKR in their Indian Premier League match (IPL) 2018 encounter
Delhi Daredevils produced a disciplined bowling performance to beat Kolkata Knight Riders by 55 runs in their Indian Premier League (IPL) 2018 encounter in New Delhi on Friday. Chasing 220, KKR never looked in control and they finished on 164/9 with Trent Boult, Glenn Maxwell, Avesh Khan and Amit Mishra with two wickets each. Earlier, Shreyas Iyer (93*) and Prithvi Shaw (62) decimated the KKR bowling attack as DD made 219/4 in 20 overs. This was DD's second win the tournament.Follow highlights of Delhi Daredevils vs Kolkata Knight Riders, IPL 2018 here. (LIVE SCORE | LIVE STREAMING)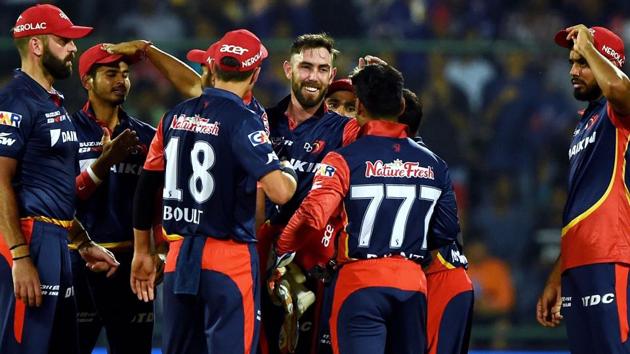 23:50 hrs IST: That's all from here. Thank you and Good night!
23:44 hrs IST: And the man of the match is Shreyas Iyer! No questions there.
23:41 hrs IST: STAT ATTACK - The number of sixes hit by Shreyas Iyer is more than the entire KKR team. Exceptional stuff from the new DD captain.
23:38 hrs IST: This was Delhi Daredevils' second win in the competition and this will be a huge confidence boost for the hosts.
23:30 hrs IST: That's it! DD have defeated KKR by 55 runs and it is a perfect start for the new skipper Shreyas Iyer.
23:24 hrs IST: Piyush Chawla goes for the big shot but is caught in the deep off Maxwell. One wicket to go for DD as KKR are 147 for the loss of 9 wickets.
23:19 hrs IST: That's the wicket DD wanted and it is now game over for KKR. Russell was looking for big shots and was clean bowled by Avesh Khan for 44. KKR 144/8
23:15 hrs IST: 2 runs off the over. The game is well and truly over. Kolkata Knight Riders 143/7 after 17 overs.
23:11 hrs IST: Second wicket for Amit Mishra as he castles Shivam Mavi for a duck! KKR 141/7
23:06 hrs IST: OUT! An unnecessary dismissal as Gill went for a risky run and gave away his wicket for 37. Six wickets down as KKR are 141/6 with 79 runs needed in 27 balls.
23:02 hrs IST: Andre Russell moves into the 40s with another six. Kolkata Knight Riders need 80 runs in 30 balls.
22:59 hrs IST: Kolkata Knight Riders need 91 runs in 36 balls - Still possible with Andre Russell out in the middle but it will be a huge feat for the visitors to stage a comeback here. KKR 129/5
22:55 hrs IST: It is still raining sixes as Russell continue to slam the ball over the boundary. Gill is also joining the party but it is too little too late. KKR 118/5
22:49 hrs IST: Stand and deliver! Two massive sixes from Andre Russell and Kolkata Knight Riders need 116 runs in 48 balls.
22:45 hrs IST: Time for the Andre Russell show. The Windies all-rounder slammed the ball through mid-wicket to start his innings with style and KKR will be hoping for quite a few more of those shots. KKR 89/5
22:40 hrs IST: Shubman Gill gets another boundary and this can be the perfect chance for the youngster to prove his worth. The match is almost out of KKR's reach, but a good performance here can solidify his spot in the team. KKR 83/5
22:37 hrs IST: Just when KKR were starting to look good, they lose another wicket. A loose shot by the skipper and Dinesh Karthik is dismissed for 18. KKR 77/5 and this match is almost over for the visitors.
22:34 hrs IST: 9 overs gone. Kolkata Knight Riders 76/4, need 144 runs more to win from 66 balls. Shubman Gill is looking in good touch and he heaved Vijay Shankar for a six! KKR 77/4
22:28 hrs IST: Kolkata Knight Riders need 154 runs in 72 balls. No boundaries in the over and DD will be happy with the proceedings. The run chase is almost over for the visitors. KKR 66/4
22:24 hrs IST: Finally, an uneventful over as it was business as usual for the batsmen. Karthik got a six but it is not enough at the moment. KKR 61/4
22:20 hrs IST: Shubman Gill negotiates the rest of the over with ease and even got a boundary on the last ball. But, looks like the chase is getting impossible for the visitors. KKR 52/4
22:15 hrs IST: An uneventful event from Liam Plunkett and Avesh Khan comes back and gets rid of Nitish Rana. The KKR batsmen are looking absolutely clueless today and Rana also ended up giving an easy catch to the bowler. KKR are truly struggling on 46/4.
22:10 hrs IST: Nitish Rana and Dinesh Karthik are out there in the middle for KKR and they have a huge role to play in their run chase today. Rana looks confident and drives the final ball for a boundary. KKR 40/3
22:07 hrs IST: DD will be really pleased with the game till now as they have done everything perfectly and with Avesh Khan in the attack, they will look to end this match as soon as possible. KKR 35/3
22:04 hrs IST: OUT! This is all going wrong for KKR! Two sixes in the over but he was fooled by the bouncer and this is a huge wicket in the context of the game. KKR will need a miracle to win from here. KKR 33/3
21:59 hrs IST: OUT! It's Uthappa this time! A needless shot from the veteran and an easy catch for Prithvi Shaw in mid-wicket! It is all going wrong for Kolkata Knight Riders. KKR 20/2
21:56 hrs IST: OUT! Perfect start for Delhi Daredevils as Chris Lynn is bowled for 5. A special wicket for Glenn Maxwell. KKR 19/1
21:53 hrs IST: Good start by Trent Boult as he conceded just six runs in the first over. Lynn and Narine need to provide a good start to KKR or the run chase will be a tall ask for the visitors. KKR 6/0
21:37 hrs IST: 29 runs in the final over! DD reach 219/4 after 20 overs and this is truly a massive total! Shreyas Iyer remains unbeaten on 93!
21:31 hrs IST: Two huge sixes off the first two balls but the third one did not connect well and Maxwell is run out on the other end as he looked to go for an impossible single. DD 202/4
21:28 hrs IST: Glenn Maxwell and Shreyas Iyer keep hitting the strokes as runs are coming quite easily for Delhi Daredevils. DD 190/3 with one over to go in the innings.
21:24 hrs IST: This is just solid batting from Maxwell and Iyer. They got two sixes in the over as DD are slowly moving towards a 200-plus score. DD 180/3
21:18 hrs IST: This has been an eventful over. Shreyas Iyer completes his fifty and then slammed Mavi for two huge sixes as Delhi Daredevils are 161 for the loss of 3 wickets.
21:11 hrs IST: A tidy over by Piyush Chawla. Just three runs off it as Delhi Daredevils are 143/3 after 16 overs.
21:09 hrs IST: Shreyas Iyer continues to play his shots as he gets a boundary and a six in the over. DD will need him to stay till the end if they want to reach a big total. DD 140/3
21:04 hrs IST: Another wicket for KKR! Rishabh Pant had no idea how to play Andrew Russell's bouncer and he ended up giving an easy catch to the keeper. DD 129/3
21:01 hrs IST: OUT! Finally Prithvi Shaw's innings comes to an end as he misses a straight one from Piyush Chawla and was castled for 62. DD 127/2
20:57 hrs IST: Looks like Shreyas Iyer is not bogged down by captaincy yet as he is also playing a crucial knock right now. A deft touch results in a boundary through third-man and this is just excellent stuff by the hosts as Shaw ends the over with a six. DD 118/1
20:52 hrs IST: Shreyas Iyer and Prithvi Shaw are playing all the bowlers with absolute ease and a six off Sunil Narine takes Delhi Daredevils to 106/1 after 12 overs.
20:48 hrs IST: What a fifty! A splendid innings from Prithvi Shaw as he brings up his maiden IPL half century. A truly special innings from the youngster. DD 94/1
20:44 hrs IST: 10 overs gone. Delhi Daredevils are 84/1. Great start for DD and Prithvi Shaw is looking like a million bucks at the moment.
20:39 hrs IST: Prithvi Shaw is on fire right now! A four and a six off Mitchell Johnson and he is well on his way to a brilliant IPL fifty. DD 77/1
20:33 hrs IST: A tidy over by Andre Russell as Delhi Daredevils reach 64/1 after 8 overs. Munro's wicket has hampered their run rate and they can't allow it to affect their approach.
20:28 hrs IST: What pace from Shivam Mavi! Munro was unable to read a faster one from the youngster and was hit on the helmet. Four balls later, he gets the man as the Kiwi is castled for 33. DD 59/1
20:23 hrs IST: Mitchell Johnson started well but room outside off-stump and Shaw gets another boundary. The youngster showed promise in the last match against KXIP, but this is a brilliant innings from the ICC U-19 World Cup winning captain. DD 57/0
20:19 hrs IST: It is brilliant batting by Munro as he slammed Sunil Narine for a four and then slog swept him for a six. Exquisite stuff! DD 51/0
20:16 hrs IST: Shivam Mavi is the new bowler for KKR but that does not change anything for Munro and Shaw. They played him brilliantly and with two boundaries in the over, they are cruising right now. DD 40/0
20:10 hrs IST: 18 runs! Prithvi Shaw and Colin Munro ripped apart Piyush Chawla's bowling as the leggie was hammered all over the park. DD 310
20:06 hrs IST: Interesting over from Kuldeep. He bowled quite well but Munro was able to slam him for a six over the mid-wicket boundary. This will be a good contest. DD 13/0
20:04 hrs IST: It is an all-spin approach from KKR as Kuldeep Yadav is handed the second over. DD 4/0
20:02 hrs IST: A good start for Chawla as he kept the youngster guessing with his variety. DD 3/0
20:00 hrs IST: Prithvi Shaw and Colin Munro to open the batting for DD. As usual, Piyush Chawla is bowling the first over for KKR.
19:55 hrs IST: Here's a look at both the teams -
Delhi Daredevils: Prithvi Shaw, Colin Munro, Shreyas Iyer (capt), Glenn Maxwell, Rishabh Pant (wk), Vijay Shankar, Rahul Tewatia, Liam Plunkett, Amit Mishra, Avesh Khan, Trent Boult.
Kolkata Knight Riders: Chris Lynn, Sunil Narine, Robin Uthappa, Nitish Rana, Dinesh Karthik (capt-wk), Andre Russell, Shubman Gill, Mitchell Johnson, Piyush Chawla, Shivam Mavi, Kuldeep Yadav.
19:45 hrs IST: There was more bad news for Delhi Daredevils before the match as South African all-rounder Chris Morris was ruled out of IPL 2018 due to a back problem. Zambia-born South Africa pace bowler, Junior Dala, will join up for the remainder of the tournament.
19:37 hrs IST: Just one change for Kolkata Knight Riders - Mitchell Johnson replaces Tom Curran.
19:34 hrs IST: DD have dropped former skipper Gautam Gambhir and also all-rounder Dan Christian. Vijay Shankar and Colin Munro are in.
19:30 hrs IST: Kolkata Knight Riders captain Dinesh Karthik won the toss and decided to field.
19:20 hrs IST: The last match against Kings XI Punjab was a nightmare for the KKR bowlers as they were completely dominated by Chris Gayle and KL Rahul. This will be a good chance for Narine & Co to regain their confidence.
19:13 hrs IST: KKR are currently in the fourth position with six points while DD are at the bottom of the points table with just one victory in the last six games.
19:05 hrs IST: Delhi Daredevils may decided to drop Gautam Gambhir today if Jason Roy is fit and they can opt for an opening combination of Roy and young sensation Prithvi Shaw.
18:56 hrs IST: There is a slight injury concern regarding Andre Russell, who stretched his right hamstring during the previous game against Kings XI Punjab and had to go off the field too. But otherwise KKR should retain the same side.
18:48 hrs IST: This is the first match for Delhi Daredevils under their new captain Shreyas Iyer. Gautam Gambhir stepped down from his position after the team's disappointing start to the season.
18:40 hrs IST: Hello and welcome to the live coverage of the Indian Premier League 2018 match between Delhi Daredevils and Kolkata Knight Riders.
The hosts are now in an unenvious position where they need to win seven of the remaining eight matches to be in Play-offs contention.
The KKR batsmen, mainly Nitish Rana and Robin Uthappa, have been contributing consistently, twice taking the side past the 200-mark but bowlers have struggled to defend even big totals.