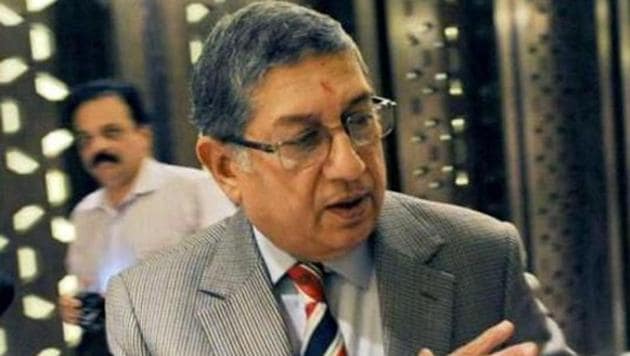 N Srinivasan tells BCCI to pitch for larger revenue share from ICC in future
The ICC's new model cut down BCCI's share to $405 million, which hasn't gone down well with N Srinivasan, the brainchild behind the 'Big Three' model. In the BCCI's Special General Meeting, he made his displeasure clear to the board members
UPDATED ON JUN 26, 2017 11:07 PM IST
As expected N Srinivasan, the former president of the Indian cricket board, came down heavily on the revised ICC revenue model during the Board of Control for Cricket in India's (BCCI) Special General Meeting here on Monday.
The ICC's new model cut down BCCI's share to $405 million, which hasn't gone down well with Srinivasan, the brainchild behind the 'Big Three' model. In the meeting, Srinivasan made his displeasure clear to the board members and urged the BCCI to try for a larger share whenever there is a possibility in the future.
Read | BCCI to receive $405 million from ICC as per agreed revenue sharing model
"Srinivasan was very vocal. It was clear that he was hurt with the 'Big Three' arrangement dismantled by Shashank Manohar (ICC chairman). He was of the opinion that the BCCI should get a fairer deal. He wants the BCCI to try to increase the revenue in the future," a BCCI member told HT.
BCCI's acting secretary Amitabh Choudhary maintained, "The members were satisfied with the outcome."
ICC Champions Trophy fall-out
Srinivasan also blasted the Committee of Administrators' (COA) decision to continue with the administrative staff of the ICC Champions Trophy for the West Indies tour as well. The BCCI had nominated Madhya Pradesh Cricket Association official Milind Kalmadikar as tour manager for West Indies. "They were of the opinion that the CoA shouldn't interfere in decisions which are the prerogative of the BCCI," said a member.
Read | Committee of Administrators won't decide if N Srinivasan can attend BCCI SGM or not
The SGM once again could not come to a conclusion on the implementation of the Lodha Committee reforms. The BCCI office-bearers will form a committee on Tuesday to look into the contentious issues like one-state-one-vote, age cap, tenure, cooling-off period and three-member selection committee.
New committee to be formed
"A five-six member committee will be formed to see how best and quickly the principal order of the Supreme Court can be implemented," Choudhary said.
Choudhary said that the committee will start functioning in a couple of days and have a deadline of a fortnight to submit its report. The committee will then give its report to the BCCI, which will again call an SGM to discuss the findings.
Read | BCCI badly outnumbered at crucial International Cricket Council meeting
Meanwhile, the BCCI is willing to consider taking Rajasthan Cricket Association back in its fold if the litigations filed against the BCCI are withdrawn. The BCCI will have a look at the request for funds from the Jammu & Kashmir Cricket Association and the Assam Cricket Association, which is building an international stadium.
There was no discussion on the Virat Kohli-Anil Kumble saga at the SGM.
BCCI's acting president CK Khanna could not attend the meeting due to personal reasons. There was no representative from the Delhi Districts Cricket Association for the SGM.
Read | BCCI could lose $180-190 million in new ICC revenue model, still biggest earner
SGM highlights
# BCCI should try to increase ICC revenue in future
# 5-6 member committee to look into reservations against Lodha Committee report implementation
# BCCI wants Rajasthan Cricket Association to withdraw all litigations against them
# BCCI may approach COA for release of funds to J&K and Assam
Close