Ravi Shastri leads race to return as India cricket team coach
Jul 10, 2017 09:13 AM IST
Board of Control for Cricket in India's (BCCI) Cricket Advisory Committee to decide whether Virat Kohli's choice Ravi Shastri gets a second stint at the helm of Indian cricket team
On paper, Virender Sehwag and Tom Moody have as good a chance as anybody to be Indian cricket team's chief coach but from all indications India captain Virat Kohli is set to get his choice with Ravi Shastri being the clear favourite for the job.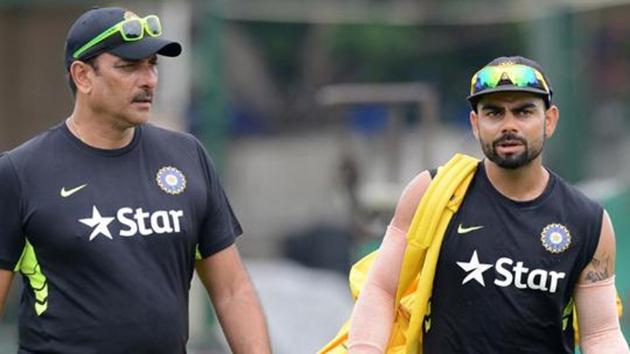 The main point of interest is whether Shastri will be a unanimous choice of the high-profile Cricket Advisory Committee, comprising Sachin Tendulkar, Sourav Ganguly and VVS Laxman, which will meet on Monday to scrutinise applicants.
Last time too Shastri was the frontrunner before Ganguly sprung a surprise by getting Anil Kumble to throw his hat into the ring.
READ | Ravi Shastri top contender for Indian cricket team coach, 6 to be interviewed
This time though Shastri is expected to tide over any resistance from within the CAC because he has the backing from the all-important name in Indian cricket – captain Virat Kohli, as well as the BCCI officials.
Shastri and Ganguly may have had a public spat last year after Shastri questioned the selection process, but a process has been set in Indian cricket during Ganguly's era whereby the captain's opinion on coach selection is given a lot of weightage.
The captain's views may not be directly sought by the BCCI, but it is understood that when the CAC members met Virat Kohli during the Champions Trophy, he made his preference of Shastri quite clear.
READ | Anil Kumble's shoes will be hard to fill: Virender Sehwag
The BCCI would be happy with Shastri's appointment too. He is smart enough to be politically correct unlike Kumble who ruffled quite a few feathers by bringing up the matter of better contracts for players, which BCCI officials saw as unionism.
According to a BCCI expert, the whole drama around the exit of Kumble was played out so that Kohli could have his preferred choice, but it is not just the captain's comfort level with Shastri.
The former India all-rounder has a lot of things going for him. Last time he missed out only because Kumble's credentials couldn't be ignored.
The Indian team performed well during Shastri's first tenure from 2014 to 2016. They were impressive away from home as well. The team reached the semifinals of the 2015 World Cup Down Under and the 2016 ICC Twenty20 Cup in India.
The Shastri-managed team lost the Test series in Australia, but got some good reviews for their brand of cricket, not to mention the come from behind series win in Sri Lanka. Kohli loves Shastri's ability to lift the dressing room atmosphere with his motivational talks.
Even though six candidates are expected to be interviewed from the 10 applications received, Virender Sehwag and Tom Moody are the only serious contenders against Shastri.
Viru's chances
It won't be a surprise if Ganguly backs Sehwag, but Ganguly also knows Sehwag lacks the experience.
Moody is a dark-horse. It is learnt, before Shastri decided to apply, the CAC were inclined towards Moody.
The Australian has earned a tremendous reputation as a coach and if not for the weight given to Kohli's views, Moody would be a serious contender for the job. He comes in with no baggage and has the right amount of experience as an international coach, having taken the Sri Lanka team to the 2011 World Cup final. He is highly rated in the Indian Premier League as well, transforming Sunrisers Hyderabad into a formidable outfit. Then, CAC member VVS Laxman has seen his work first-hand at the Hyderabad team.
However, it may still not be enough to pip Shastri. In fact, Shastri could become a unanimous choice if the BCCI sends in instructions to the three CAC members of their preference, but as of Sunday evening there was no knowledge of any message being conveyed.
"It will entirely be the CAC's call," said BCCI's acting secretary CK Khanna who was optimistic of having the name of the new coach by Monday evening. "Whoever is going to be appointed the head coach, the minimum tenure should be two years, so that the same coach should continue till the next World Cup in 2019."