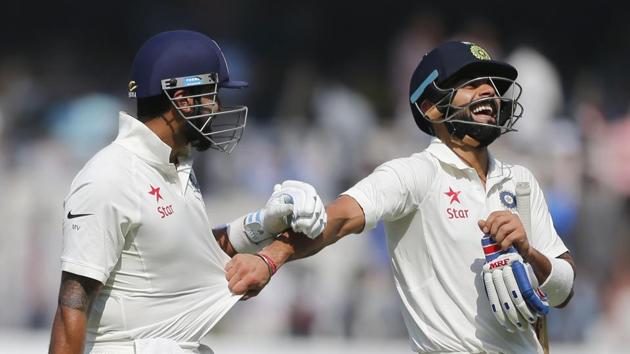 Virat Kohli 'survives' strange DRS call by Bangladesh, can't stop laughing
Virat Kohli was the target of a bizarre DRS call by Bangladesh captain Mushfiqur Rahim on the first day of the one-off Test. The Indian cricket team captain couldn't stop laughing at his counterpart's decision, which also left the commentators confused
UPDATED ON FEB 10, 2017 11:42 AM IST
Virat Kohli is one batsman that every opposition wants to get out. In probably the form of his life, the Indian cricket team captain is the prime target of every team. Same was the case with the Bangladesh cricket team during their one-off Test in Hyderabad.
Kohli, who went on to score his 16th century on Day 1, was again proving too hot to handle by the Bangladeshi bowlers. Bangaldesh captain Mushfiqur Rahim, who is also their wicketkeeper, was watching his side getting plundered by Kohli from close quarters. And he could not help but take a proactive role.
So, in the 62nd over, with Murali Vijay batting on 101 and Kohli at the strike on 31, Rahim decided to take matters in his hand.
As left-arm spinner Taijul Islam bowled the second ball of the over, Kohli brought his front foot forward and defended delivery with an angled bat. Nothing suspicious or astounding at all, but Rahim thought differently.
Somehow, the Bangladesh captain felt there was faint chance of LBW and he had to take it. He even asked the fielder at the forward short leg: "Didn't it hit the stumps?" Even the fielder was baffled at such a question, and before he could respond properly Rahim signalled for the DRS.
Commenator Sanjay Manjrekar also expressed his surprise at such a decision. The result of the decision was as expected – the reviews showed there no even a minimum hint that the ball was anywhere near Kohli's leg. The visitors had to contend with a lost review.
But Kohli was amused all the while. He couldn't stop sharing a laugh with Vijay at the other end. Even some of the Bangladeshi players were seen smiling at their captain's enthusiastic but unrealistic call.
Kohli then went on to score his 16th Test ton in just 130 balls and India looked poised for a big total in the one-off Test against Bangladesh.
Close