Poaching in Rajaji: Informer held, official who led team under scanner
Published on Mar 30, 2018 10:09 PM IST
The alleged leopard poaching case in the core area of Rajaji Tiger Reseve has taken a curious turn with the forest officials arresting a person, who has remained an informer for both the forest department and the police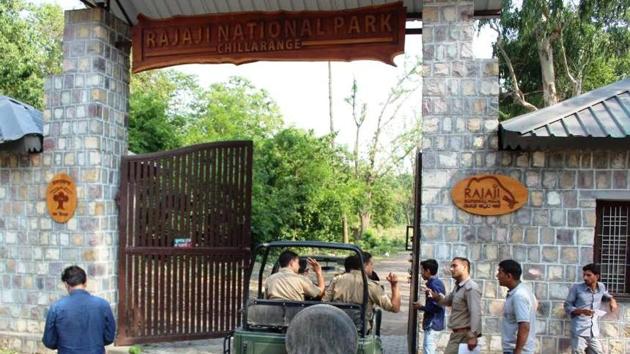 The alleged leopard poaching case in the core area of Rajaji Tiger Reseve (RTR) has taken a curious turn with the forest officials arresting a person, who has remained an informer for both the forest department and the police.
The reserve management has also begun a probe against a senior forest official who had recovered the skin of a leopard and other items buried in earthen pits, incidentally, based on the information provided by the man who has now been arrested.
The RTR management on Friday arrested Amit alias Sonu, a resident of Raiwala, in connection with leopard poaching incident reported on March 22. Sonu, 30, has been booked under various section of The Wildlife Protection Act, 1972. He was produced in a court, which sent him to jail.
The reserve management is now searching for five people, all from Sapera community, who are allegedly involved in the case. A deputy ranger is also under the scanner.
Amit runs a butcher's shop and trades mainly in chicken and fish. Officials in RTR, privy to its functioning, said that Sonu also worked as an informer for the reserve management and the police. In January, the reserve management had booked Sonu for illegally catching fish from River Ganga. He, however, secured bail in that case.
During preliminary interrogation after his arrest on Friday, Sonu told officials that former acting deputy ranger of Kansro in RTR, Anup Bhindola, had about a fortnight ago demanded information from him about possible leopard poaching in the reserve area. Sonu told officials that he made Bhindola meet five people of Sapera community living in Haripur Kalan area on March 21. The following day, Bhindola lead a team of foresters and seized a decomposed leopard skin and carcass from four pits in Motichur range. Haripur Kalan is situated adjacent to the location from where the seizures were made.
"He (Sonu) has mentioned the name of an officer. We will conduct a transparent investigation in this matter," Digvijay Singh Khati, chief wildlife warden, said.
Bhindola, however, claimed that he is been targeted.
As per Bhindola, who was transferred to forest headquarters in February, the RTR management has arrested Sonu to make him a scapegoat and in efforts to "cover up the issue of the vulnerability of wild animals" in the protected area.
"Poachers have their nexus spread across Rajaji. The officers are not competent enough to safeguard the wild animals. Sonu had worked as an informer and now they have booked him to get rid of the allegations leveled against the officials. Just because I exposed the case, now they are also trying to malign my credibility," Bhindola said.
Along with officers of the reserve, various non government organizations had information about leopard poaching in Motichur range. These people also knew that Sapera community members could be involved. But, it was only after a specific tip off that head of forest force (HoFF), Jai Raj, constituted a team that raided the spot and seized wildlife parts.
The role of Sonu, however, remains dubious. Those close to the matter claimed he always had credible information about poaching in and around the reserve. In many cases, he had taken officials to the exact spot where seizures were made. It is the reason why officials believed that he works with the gangs that are active and informs about the crime depending on situation to safeguard his own interest.
"Anyone who is involved (in poaching) will be sent to jail," said Sanatan Sonkar, director, Rajaji, when reached for comments.