Sikh cop saves Muslim youth from angry mob in Uttarakhand
May 25, 2018 02:39 PM IST
Sub-inspector Gagandeep Singh shielded the youth and took blows from angry activists.
A Sikh police officer saved a Muslim youth from being attacked by an angry Hindu mob in Uttarakhand's Nainital district on Tuesday after they allegedly found the youth in a compromising position with a Hindu girl. A video of the incident has gone viral on social media.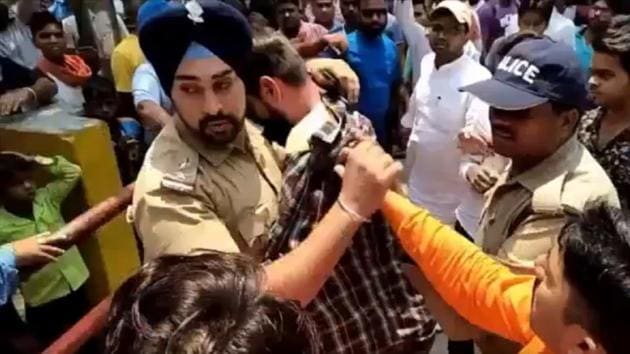 The incident happened near Garjia Devi temple in an isolated area, about 15 km from Ramnagar town. The youth had gone to meet the girl from Hindu community, who is his friend, according to the police. Locals caught them and alleged that they were found in a compromising position, and later called members of Hindu right wing organisations who started thrashing the youth.
On being informed, a police team was rushed to the spot. Police tried to pacify and disperse the mob even as sub-inspector Gagandeep Singh escorted the youth away from them. But when some angry activists started shouting and assaulted the youth, Singh shielded him by embracing him and taking the blows from angry activists.
Singh bravely took the youth from there, said additional director general of police (law and order), Ashok Kumar, adding that the police soon dispersed the mob.
The youth and the girl were taken to a police station and later sent with their parents.
"Five of the attackers who are clearly visible in the video have been identified by the police and have been booked under relevant sections," the ADGP said.
The police department has also announced a reward of ₹2,500 for sub-inspector Gagandeep Singh, Kumar said and appealed to the public not to spread the video with wrong intentions to incite communal violence.