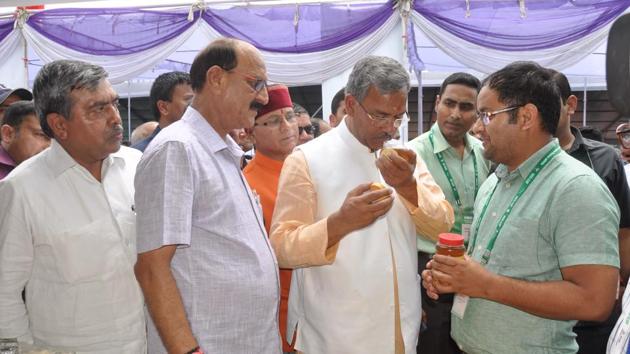 Uttarakhand CM has 3-point mantra for farmers to double their income by 2022
Trivendra Singh Rawat urged farmers to go for voluntary consolidation of their scattered land holdings, follow innovative farming techniques, and conserve water
UPDATED ON MAY 04, 2018 09:22 PM IST
Uttarakhand chief minister Trivendra Singh Rawat on Friday spelled out the mantra for farmers in the hill districts to double their income in next four years, or by 2022.
"I urge you to go for voluntary consolidation of your scattered land holdings, follow innovative farming techniques, and conserve water. Adopting these three methods will help you double your income by 2022 and help the Prime Minister realise his vision to build a New India in the next three years," Rawat said.
He was addressing farmers at a state level conference on agriculture and farm machine bank fair in Dehradun.
Rawat said farmers can conserve 60 per cent of their energy by going for voluntary consolidation of their terraced and scattered landholdings. "This precious energy goes waste in visiting your scattered land holdings, doing all sorts of farm related work and in keeping the crop raiding animals away. Farmers can conserve their energy and use it in enhancing the productivity and augmenting their income, if they go for a voluntary consolidation of their scattered landholdings by exchanging it with other farmers, as per their convenience"
On the occasion, Rawat also distributed cheques among farmers to help them purchase Farm Machine Banks (FMBs). "The FMBs, which comprise the latest farm related equipment, are being distributed among farmers at a subsidised cost. These tools will lessen their drudgery besides helping them enhance the farm produce, which will help augment their income," agriculture secretary D Senthil Pandyan said. "The FMBs would cost Rs 10 lakh each and farmers will contribute Rs 2 lakh of the total amount," he added.
Rawat said the Central government has made the highest ever budgetary allocation for Uttarakhand in the farm sector since its formation 17 years ago. Referring to the FMBs, he said the latest equipment being provided to farmers will help in processing their farm produce, which will add value to it and fetch them good returns. "We are also introducing schemes to encourage farmers to go for cluster based farming to ensure that they get maximum profit from agriculture and horticulture," Pandyan added.
Rawat urged farmers to go for "market-driven farming" so that the crops they produce fetch good price in domestic and international markets. "That means instead of the set pattern, go for farming of aromatic plants. You can also grow rose around your farms, which won't just fetch good price but being a thorny plant will also help keep the crop raiding animals away," the CM said.
The chief minister also appealed to farmers to conserve water saying the precious commodity, essential for farming is becoming scarce owing to various factors. "In the Ganga, for instance, the level of water has receded by a massive 45% in the last some five decades," he said adding that same was the case with other rivers and streams originating from the central Himalayan region.
"We are not able to comprehend how scary will be our children's future, if we do not start conserving a precious resource like water," he warned.
Agriculture minister Subodh Uniyal said that the BJP government has introduced schemes worth Rs 3000 crore to give a boost to the farm sector. "In this state the farmers' annual income till now is Rs 56, 600. We have resolved to enhance this income up to Rs 1 lakh per annum (by 2022)," he said.
Uniyal said the government was also committed to developing Uttarakhand as an organic state. "The Centre has funded a scheme under which some 10,000 clusters of organic farming would be developed across the mountain state," the minister said.
Close