11 pipes,11 rods at Burari house mere coincidence, say builder and welder
Hindustan Times, New Delhi |
Shiv Sunny and Karn Pratap Singh
Jul 06, 2018 08:21 AM IST
Burari deaths: The people responsible for installing the pipes and the main door say they were not given any specific instructions.
A contractor and a welder, who had installed 11 pipes protruding from one wall and as many iron rods in the main door at Bhatia house in Burari, have denied any planning or instructions behind the peculiar number.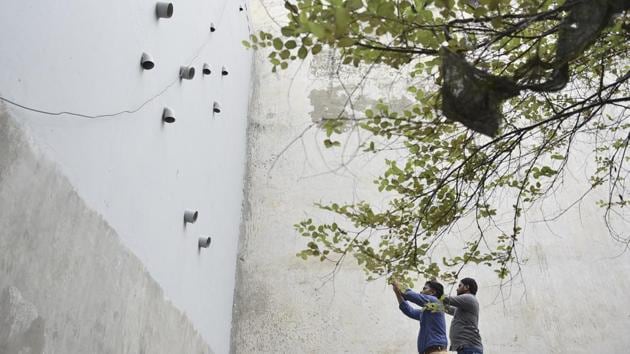 Their claims come in the wake of the discovery of the 11 haphazardly placed pipes and an iron gate containing 11 rods, prompting the police to probe if they had any links to the alleged rituals that left 11 members of the Bhatia family dead.
Kunwar Pal, the contractor, who was given the task of renovating the three-storey house, said that the idea of fixing the pipes were of Lalit Bhatia, the 45-year-old man who is suspected of leading the fatal ritual.
"Lalit wanted the pipes installed for ventilation and lighting. He said the pipes could be removed and the holes plugged as and when construction in the adjacent plot began," said Pal, adding that the pipes were fixed last November.
"However, Lalit did not instruct me on the number of pipes that were to be fixed. I instructed the workers to fix a few pipes and they did as directed. I realised there were 11 pipes after media reports following the deaths pointed it out," said Pal.
Seven of those pipes were narrow and bent downwards while the other four were broad and straight. Coincidentally, the dead people included seven females and four males. However, Pal said that his workers used whatever leftover pieces of pipes were available.
Nineteen years ago, Pal was hired by Lalit Bhatia's father, who died in 2007, to construct the house. "The family had liked my work and my relationship with Lalit's father. So they hired me again for further construction and renovation," said Pal.
Pal claimed that he had last met Lalit in the neighbourhood around 6 pm on June 30.
"The family owed ₹1 lakh and I needed the money for my niece's wedding. When I asked for at least ₹40,000, Lalit told me he only had ₹4,000 and could give the rest on July 10. I asked him to make the full payment on July 10," said Pal.
Anil Sharma, a welder working in the neighbourhood, said it was he who had fixed the main gate of the house.
"It was Lalit's idea to have such a frame, but I decided on the number of iron rods that were to be fixed. It is a mere coincidence that there were 11 rods because it all depended on the girth of the rods and the space available," said Sharma, who fixed the main gate in February.
"Exciting news! Hindustan Times is now on WhatsApp Channels
Subscribe today by clicking the link and stay updated with the latest news!"
Click here!