70 borewells to increase water output in Yamuna floodplains in Delhi
Updated on Aug 19, 2018 04:36 AM IST
The Delhi Jal Board will install 70 new borewells in the floodplains of the Yamuna to increase the production of drinking water by 15 million gallons a day (MGD)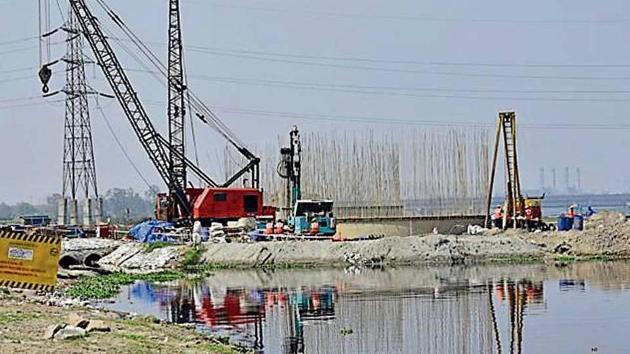 Hindustan Times, New Delhi |
HT Correspondent
The Delhi Jal Board will install 70 new borewells in the floodplains of the Yamuna to increase the production of drinking water by 15 million gallons a day (MGD).
The Board already operates 106 borewells in the river's floodplains in the Palla area beyond Wazirabad in north Delhi which produce around 20 million gallons of water per day. With the new installations, the total production from the groundwater in this area would be around 35 MGD.
"We already have 106 borewells operating in the Palla area. Another 70 would be installed to lift additional 15 MGD water over the next six months. Tenders have already been floated," Dinesh Mohaniya, vice-chairman of DJB, said.
Even though the NITI Aayog had recently warned that Delhi could run out of ground water by 2020, a recent study by a team of experts, including Shashank Shekhar a professor of geology from Delhi University, has found that there are huge underground aquifers in the Palla area from where at least 60 MGD of groundwater can be withdrawn sustainably. The entire flood plains could yield around 200 MGD of water.
"The market value of this 60 MGD water, according to the DJB's rates, would be at least ₹500 crore even after taking into account subsidised rates of the Board for domestic purposes," Shekhar said.
The research findings were published in Current Science, a peer review journal published from India, in its February 10, 2018, issue.
"The study says that 60 MGD can be withdrawn from the Palla area alone. Pro rata extrapolation of this would simply mean that we can withdraw at least 200 MGD from the entire Yamuna floodplains," said Shekhar.
Researchers have found that the water in these aquifers is of very good quality with zero E coliform count. This is despite the fact that water in the Yamuna itself is comparatively more polluted, with a coliform count ranging between 490 - 54000 MPN per 100 ml, the Central Pollution Control Board had earlier found. The safe standard is 5000 MPN per 100 ml.
"The reason for this is that aquifers are recharged by rainwater or flooding. In the lean season it is these floodplains which feed the polluted river and not the other way round," Vikram Soni, a professor of Physics in Jamia Millia Islamia and JNU and one of the study team members, said.
Personalise your news feed. Follow trending topics