At Singhu border, banners ask protesters to uphold dignity of stir
Another banner read, "The farmers are conducting peaceful protests in different parts of the country. Kindly cooperate with them to uphold the dignity of their movement. They (farmers) are innocent and responsible for providing food to the nation."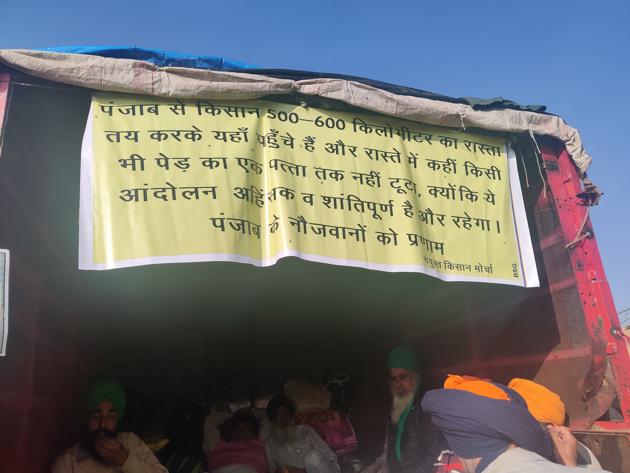 Updated on Dec 14, 2020 05:37 PM IST
Several banners came up on Sunday at the farmers' protest site at the Singhu border requesting protesters not to indulge in any kind of "inappropriate activity" and to uphold the "dignity" of the movement.
The move comes after a section of protesters at another protest site, the Tikri border, on Thursday, had held up posters demanding the release of political activists and intellectuals like Umar Khalid, Sharjeel Imam, Sudha Bharadwaj and Anand Teltumbde. While Khalid and Imam were arrested for their alleged involvement in the Delhi riots, Bharadwaj and Teltumbde were arrested in connection with the Elgar Parishad case and Bhima-Koregaon case, respectively.
Pictures of these posters that went viral on social media had some people alleging that the farmers' protest against the central government's farm laws had been "hijacked".
On Sunday, one banner put up by Sanyukt Kisan Morcha -- a grouping of around 500 farmer organisations -- stated, "This is a peaceful and non-violent protest led by the farmers. We request everyone not to indulge in any inappropriate activity and do not raise provocative slogans."
Another banner read, "The farmers are conducting peaceful protests in different parts of the country. Kindly cooperate with them to uphold the dignity of their movement. They (farmers) are innocent and responsible for providing food to the nation."
A poster at the protest site read: "We do not know who is Umar Khalid, who is Sharjeel. Mr. Modi, we are farmers. Repeal our death warrant."
Kulwant Singh Sandhu, 65, general secretary of Jamhuri Kisan Sabha, and among the 35 farmer leaders holding talks with the Center, said, "The banners were put up on to make it clear that we, the protesting farmers, have nothing to do with what had happened at the Tikri border. We are here for a cause and that's related to farmers only. We have not allowed any political, ideological, or religious leaders to use our protest from day one. And we are being portrayed in a negative light because of some people. We can't allow this."
Farmer leaders said that they were also keeping a watch on posters that were coming up.
For instance, on Sunday, protesters asked a group of poster-carrying students, reportedly from Jamia Millia Islamia, to leave from Ghazipur protest site. "They had come there to extend support to farmers but they were clearly told that this was a farmers-only protest. They left soon after," said Rakesh Tikait, spokesperson of the Bharatiya Kisan Union's Tikait faction in UP, adding the protesters need to remain vigilant of "mischievous elements" among them.
Protesters said they were disappointed at statements saying their movement had been "hijacked by the Left Maoists elements". Surinder Kaur, 70, a farmer from Shahabana in Ludhiana, said, "The people of my village have been fighting for the rights of farmers for years.We don't know who are Maoists or leftists. We are simple people who work hard for a living."
Agitating farmers also said that they were unnecessarily targeted for eating "pizza" or having "foot massagers" at the protest site. "Each and every ingredient used to make pizza is being produced by farmers starting from its base. Why can't we eat it? There is a section of people who are just trying to trivialise our movement by unnecessarily criticing us," said Harjeet Singh, 32, a farmer from Tarn Taran in Punjab.
Close Story