Delhi has cleanest Diwali in 3 yrs after cracker sale ban, but don't celebrate
A Supreme Court ban on sale of firecrackers in the national capital region (NCR) only limited their availability which left enough room for a spike in pollution levels.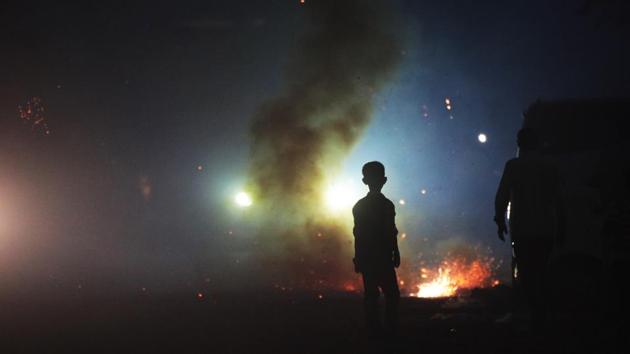 Updated on Oct 20, 2017 02:41 PM IST
It was Delhi's cleanest Diwali in three years following a Supreme Court ban on sale of crackers in the national capital region (NCR) but pollution still soared as many residents went ahead with their fireworks.
The air quality began to worsen Friday morning. By 11 am, the overall PM 2.5 in Delhi hit "severe" levels, with a reading of 574 ug/m3, according to System of Air Quality and Weather Forecasting and Research (SAFAR). PM 10 also touched 'critical levels' of 517 ug/m3.
Of the eight monitoring stations in Delhi listed with SAFAR, seven of them had air quality that had reached severe levels, bad enough for Delhi's Graded Response Action Plan (GRAP) - measures to combat air pollution - to kick in. Lodhi road had the worst numbers, where PM 2.5 peaked at 905 ug/m3 and PM10 hit 676 ug/m3.
Dhirpur, was the only station that recorded PM 2.5 levels below 400 ug/m3, and PM 10 levels below 350 ug/m3. Dhirpur had the lowest reading of the finer and more dangerous pollutants, at 396 ug/m3, and also the lowest levels of the larger PM 10, at 342 ug/m3, making the air quality in the area 'very poor.'
According to data and monitoring by SAFAR and the Central Pollution Control Board, Delhi on Thursday had an air quality index (AQI) of 319, which falls in the very poor category. During this level of air quality, people are asked to avoid all outdoor physical activities and stay indoors as much as possible.
However, this was much better than 2016 when AQI on Diwali was 431 and 343 in 2015. In the early hours of Friday, the day after Diwali, the AQI for Delhi was 340. In 2016, the AQI of the day after was 445 while in 2015 it was 360.
Even though firecrackers were burst in most parts of the city, the volume was much less due to lack of easy availability. While some people claimed to have travelled out of the city to buy the rockets and sparklers, many others said they used last year's stock.
On Diwali night on Thursday, a huge spike in air pollution was noticed at different spots in the city. Anand Vihar, the most polluted spot in Delhi, had the highest PM10 reading at 2402 microgram per cubic metre, according to the Delhi Pollution Control Committee real-time monitoring. At 11pm in RK Puram, PM10 read 1179 while PM2.5, the finer particulate matter, was 878 microgram per cubic metre, the highest across all DPCC stations this Diwali. The permissible limit of PM10 and PM2.5 are 100 and 60 microgram per cubic metre.
In Punjabi Bagh, PM10 reached 1600 microgram per cubic metre at midnight while at Mandir Marg it touched 1046 microgram per cubic metre at 1am.
However, after a spike in readings, nearly all real-time pollution data on the DPCC was either unavailable or kept showing old readings till 4am.
According to the Central Pollution Control Board's SAMEER app, between 11pm and 4am when highest level of pollution is usually expected, Delhi and NCR mostly had "very poor" air quality. Only Anand Vihar had an AQI of 403, in severe category.
The Supreme Court on October 9 had banned sale of firecrackers in Delhi-National Capital Region (NCR) till October 31. However, there was no such order against buying and bursting and Delhi is solely responsible for the air it breathes due to the current weather conditions.
A forecast released by SAFAR on Monday had stated that the air quality in Delhi this year will be directly proportional to firecrackers burst and vehicular emissions within city limits. The report said prevalent weather conditions will not allow polluted air from neighbouring states to reach Delhi until at least October 21.
The forecast took three scenarios into account. If the city bursts the same amount of firecrackers as last year, the pollution level would be higher than 2014 and 2015 but less than 2016. If the number of crackers sees a 50% reduction, the pollution would be less than 2014 but greater than 2015. If no firecrackers are burst, Delhi would have been the cleanest Diwali since 2013, it said.
"Moisture in Delhi is increasing and the temperature is dropping. This may increase the holding capacity of the emissions from firecrackers. An anti-cyclonic circulation may lead to slowing down of surface winds which in turn would lead to stagnation of local pollution," SAFAR had predicted.
On Tuesday, the Environment Pollution Control Authority (EPCA) implemented a series of measures, such as imposing a ban on diesel generator sets and temporarily shutting down the Badarpur thermal power plant, to curb pollution levels in the national capital region during the winter.
The Supreme Court-mandated panel has warned that further steps, including effecting a fourfold hike in parking fees and shutting down polluting industries, will be implemented if the air quality degrades from 'very poor' to 'severe' in the coming days.
Diwali had triggered the worst smog in 17 years last year, forcing the Delhi government to shut down schools and construction sites. It was Delhi's worst Diwali in three years in terms of air quality as a deadly cocktail of harmful pollutants and gases engulfed the city in thick smog. SAFAR had said that the air quality was not only severe but had plunged to its worst in three years mainly due to low wind movement and falling boundary layer that traps pollutants close to the surface.
In 2015, even though the air quality was better than 2016, pollution levels soared about 23 times in some areas, according to real-time readings.
Close Story
Personalise your news feed. Follow trending topics