Delhi's anti-pollution plan forces brick kilns to adopt eco-friendly technology
Updated on Nov 27, 2017 01:19 PM IST
As a measure under the Graded Response Action Plan, which came into force on October 17, all brick kilns in Delhi-NCR have been ordered to shut down. Only those utilising "zig-zag" technology were exempted.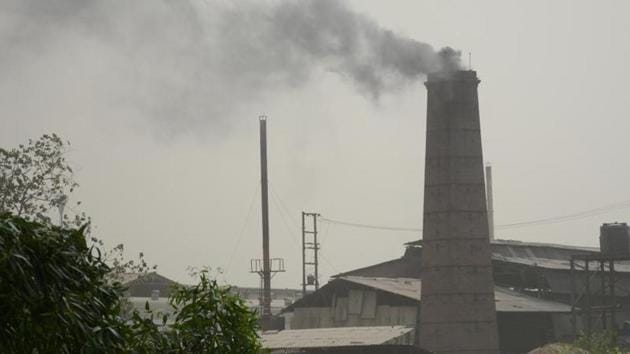 The Supreme Court-appointed pollution prevention panel Environment Pollution (Prevention and Control) Authority (EPCA) is hoping to do away with, once and for all, one of the major sources of air pollution in Delhi-NCR — brick kilns running on old, polluting technology.
As a measure under the Graded Response Action Plan (GRAP), for very poor and severe categories of air pollution, which came into force on October 17 for the first time, all brick kilns in NCR have been ordered to shut down. Only those utilising "zig-zag" technology were exempted.
"We are hoping to use this opportunity (enforcement of GRAP measures) to clean up the brick kiln sector for the future. There are a lot of illegal kilns operating in NCR. If we (Delhi, UP, Haryana and Rajasthan) can work together, then we can use this opportunity to clean the sector," said Sunita Narain, a member of EPCA.
State pollution control boards have been directed to identify each brick kiln in NCR areas with GPS locations and verify whether they are running on zig-zag technology. The brick kilns' names would be then sent to EPCA, which in turn would issue consent to operate letter to the kiln.
"This measure would help us to develop a database of all legal brick kilns running on cleaner zig-zag technology. Any new brick kiln coming up would have to follow the same method to get approval. This would allow us to monitor them better," said Narain.
EPCA members and officials of the state pollution control boards, who attended the last review meeting on Friday, said that there has been a "very positive response" from the owners of the brick kilns.
"I shifted to zig-zag technology last year. The only concern is that it requires around ₹12-₹15 lakh to shift to the new technology. If the government, helps us with some subsidy, it would be of much help," said a brick kiln owner from UP's Gautam Budh Nagar.
The brick industry is one of the five largest industrial consumers of coal, and there are serious environmental concerns associated with the production of fired-clay bricks. Even though there have hardly been any study to quantify the amount brick kilns contribute to Delhi's air pollution, experts said that this sector contributes a significant portion of PM2.5 levels.
The Supreme Court, in an order in 1996, had directed all kilns operating in Delhi shut. As a result, the brick kilns moves to areas bordering Delhi such as Ghaziabad, Noida, Bhagpat and Meerut.
There are currently around 2,080 brick kilns in Delhi-NCR, with about 700 in the three districts of Ghaziabad, Gautam Budh Nagar and Hapur.
The technology involved in zig-zag kilns forces the air to spend more time inside the kiln. This ensures that there is a good transfer of heat, the emissions remain low and high percentage of good quality bricks are produced, said a senior official of the Haryana state pollution control board.
"Converting to zig-zag system will ensure that energy consumption is reduced by almost 20% due to proper hot air circulation. Suspended Particulate Matter and black carbon emissions are reduced drastically to about 75%, and the number of good quality bricks goes up by around 25%," the EPCA had stated in its report submitted before the Supreme Court in February.
Personalise your news feed. Follow trending topics