Dramatic rise in farm fires, air quality levels may hit emergency in Delhi
Hindustan Times, New Delhi |
, New Delhi/ Patiala
HT Correspondents
Nov 11, 2018 07:47 AM IST
Air quality levels threatened to enter the 'emergency' category even as officials in Punjab reported a big spike in farm fires after Diwali.
Air pollution lingered between 'very poor' and 'severe' levels in the national capital on Saturday and threatened to enter the 'emergency' category even as officials in Punjab reported a big spike in farm fires after Diwali.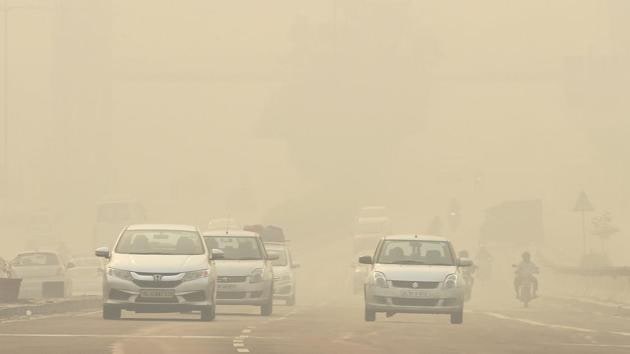 According to scientists at pollution forecasting agencies, the air is likely to worsen over the next two days since the wind is bringing in particulates from the northwest, where farm fires have been raging.
"The concentration of PM 2.5 – the more harmful of the particulates – would remain in the severe or severe+ (emergency) category till November 11," said an official who maintains the early warning system that can forecast pollution levels up to two days in advance.
An official at Punjab's pollution control board said that since Wednesday, at least 10,000 instances of farm fires were recorded — nearly a fourth of the roughly 40,700 instances seen this year.
A total of 48,000 fire incidents were reported in Punjab last year and the number was 78,000 in 2016. "At this rate, the total count might cross last year's numbers," said the official, asking not to be named since he was not authorised to speak to the media.
Farm fires and emissions from firecrackers contribute heavily to concentrations of PM2.5 particles in the air, which can lead to major health problems since they can enter the bloodstream after penetrating deep into the lungs.
'Emergency' is the worst of five grades classifying pollution, followed in decreasing intensity by 'severe' and 'very poor'.
Last year in November, a fortnight-long period when the air remained in the emergency category forced schools to be closed and people, especially the elderly and young children, were asked not to go out.
On Saturday, authorities extended a ban on construction work and entry of heavy vehicles into Delhi in order to help control local emissions. Industries running on coal have also been asked to cease operations.
"Several emergency measures have been rolled out while new measures were added over the past ten days. These might have worked," said Sunita Narain, member of the Supreme Court-appointed pollution control authority Epca.
Farm fires are largely seen as the reason for the air to enter hazardous levels at the start of winters in recent years. In a bid to check this, the Union and state government in Delhi, Punjab and Haryana have announced strict penalties on farmers who burn crop residue. In Punjab, the pollution control official quoted above said that farmers are now resisting inspections.
"Most of the incidents are being reported from the Malwa districts where farmer unions are strong and are not allowing authorities to take action against violators. There have been more than 600 cases where field staff could not take action against violators following farmers' opposition. On Friday, a Punjab Pollution Control Board (PPCB) team was gheraoed in Bathinda," said another official.