EPCA to write to Haryana, UP to speed up process of adding air pollution monitoring stations
Mar 05, 2018 02:40 PM IST
In a meeting, on Wednesday, on the graded response action plan implementation, it was decided that EPCA chairman Bhure Lal will write to the chief secretaries of these states, pointing out the missed deadlines and asking them to expedite the process
New Delhi: The Supreme Court-mandated Environment Pollution (Prevention and Control) Authority (EPCA) will write to Haryana and Uttar Pradesh asking them to speed up the process of installing air pollution monitoring stations.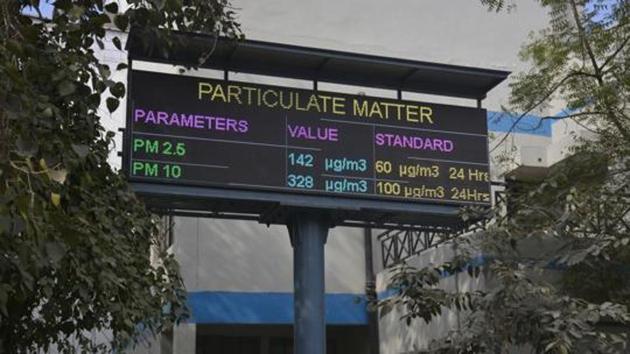 In a meeting, on Wednesday, on the graded response action plan implementation, it was decided that EPCA chairman Bhure Lal will write to the chief secretaries of these states, pointing out the missed deadlines and asking them to expedite the process.
"We want three things — the stations you have committed should be installed, should be connected to the Central Pollution Control Board network and function properly. We are tired of chasing you month after month," EPCA member Sunita Narain said.
In Haryana, three stations are up at Gurgaon, Faridabad and Rohtak. Thirteen more stations were supposed to come up by 2017 December-end. The deadline was again revised to February 2018. In Uttar Pradesh, two stations are functioning in Noida and Ghaziabad. Another 10 will come up. In Delhi, 24 stations are operational. However, all of the new ones, 20, are yet to be connected with the Central Pollution Control Board website.
With more data from these stations, the CPCB's common air quality index (AQI) for Delhi-NCR would accurately reflect the extent of pollution in the region.
"The CPCB has one portal in which all data is available. It will make sure all stations are connected and are visible at one place. All PCBs will provide file transfer protocol (FTPs) to it. However, they must run their own stations," Narain said.
EPCA chairperson Bhure Lal said he will intervene and write a letter to the chief secretaries of the states.
"I will also call a meeting of chief secretaries. We need those stations up and running. Deadline given to you was end of February, where are these stations now?" Lal asked.
Haryana officials at the meeting said the process for installation of remaining stations will be done in a couple of months. Uttar Pradesh officials said out of the 10 remaining, five are under installations.
"The instruments have come. We hope that the work is done by March 31," one of the officials said.
Prashant Gargava, head of air quality management at CPCB, who was present at the meeting, said the apex pollution control board will also install more stations in the NCR towns.
"In Haryana, we have sanctioned five more stations, three in Faridabad and three in Gurgaon. Since Delhi has a dense network, we should have a similar set up in surrounding towns of Ghaziabad, Noida, Gurgaon and Faridabad. Three stations each has been planned by the CPCB in Ghaziabad, Noida and Meerut, too," Gargava said.
On February 28, the EPCA had decided to lift the Graded Response Action Plan from March 1, at least 15 days before schedule. The measures for severe and very poor categories of pollution have been removed from March 1. The measures for combating poor and moderate air quality would, however, remain in place. This means even though the ban on diesel generators in Delhi was lifted on March 1, measures such as ban on garbage burning would continue to remain in force.
Apart from strengthening the monitoring stations network, the SC-appointed body also wants to focus on pollution control in industries.