Felling of 1,961 trees in Dwarka comes under NGT scanner
Updated on Nov 22, 2017 01:39 PM IST
The green panel has sent notices to the authorities after a petition demanded a complete review of the exhibition-cum-convention centre in Dwarka's Sector 25.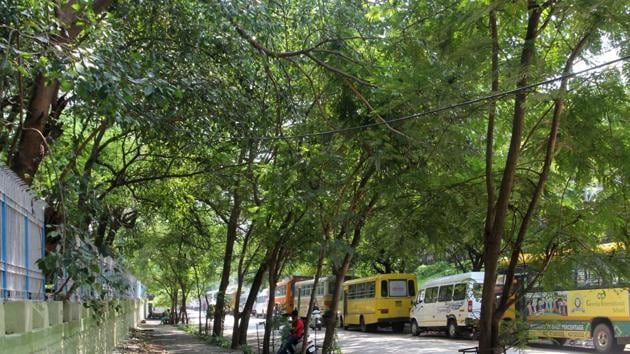 Hindustan Times |
HT Correspondent
The National Green Tribunal on Tuesday issued notices to the Delhi government, the Union ministry of environment and forests, Delhi Mumbai Industrial Corridor Development Corporation and Delhi Pollution Control Committee over felling of 1,961 trees for a construction project in Dwarka.
The move comes after a petition, which demanded a "complete review of the project so as to analyse how many trees can be saved by little change in the plan or to see if the fully grown trees can be implemented in the project itself."
The project under scanner is construction of an international exhibition-cum-convention centre in Dwarka's Sector 25.
According to the petitioner, environmental activist Shobhit Chauhan, the project proponent Delhi Mumbai Industrial Corridor Development Corporation should explore the possibility of transplantation of the mature trees rather than recklessly felling the trees and earning revenue by sale of timber obtained.
"It is an undisputed fact that trees are natural air filters and have pollutant absorbent capabilities which are need of the hour at the time when pollution levels in Delhi are alarmingly high. We have asked that the compensatory plantation should be undertaken around Dwarka sub-city, in order to maintain the ecological balance, rather than 35km away between the barrage of ITO and Yamuna Bank Metro Station," Chauhan told Hindustan Times.
A bench headed by NGT chairperson Swatanter Kumar on Tuesday gave the government agencies a week's time to submit their reports. The matter will be heard next on December 11.
Green activists have already raised concerns as more than 15,000 trees have been felled in the capital over the last three years. While more than 6,000 were cut in 2014-15, around 4,600 and 4,700 trees were felled in 2015-16 and 2016-17.
The Pragati Maidan complex's makeover into a world-class convention centre, too, has also been challenged at the National Green Tribunal, which, according to petitioner Verhaen Khanna, will cost "1,713 healthy big trees in the heart of the city will lead to severe health damage to lakhs of residents."
Personalise your news feed. Follow trending topics