Under-construction building collapses in Ghaziabad, one dead
Jul 22, 2018 11:46 PM IST
District magistrate says building was illegal, had been served demolition notice.
An under-construction building collapsed in Ghaziabad's Akash Nagar area on Sunday afternoon killing at least one unidentified person and injuring eight others. Officials said that one person was feared trapped under the rubble.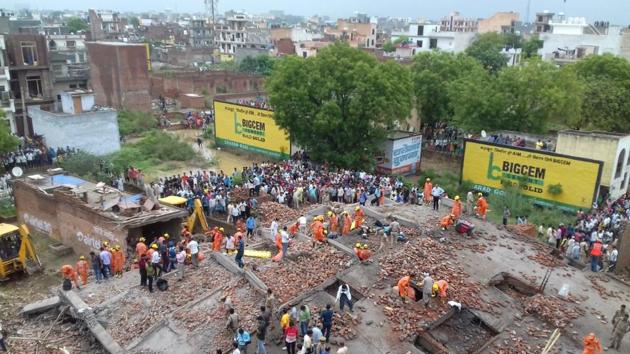 According to officials, a 35-year-old man, Raju, was declared brought dead at Combined District Hospital at Sanjay Nagar. The eight injured were rescued by personnel from the of National Disaster Response Force (NDRF) who rushed to the spot after the incident.
"The columns of the building had developed cracks and we were trying to repair it . Our supervisor, Ram Singh, had told us to repair the cracks in the afternoon. We started work after 2pm and minutes later the building collapsed," said Geeta, 27, one of the labourers who was rescued.
Those injured in Sunday's collapse mostly included labourers who had arrived from Madhya Pradesh's Damoh .
"One 35-year-old man was brought dead at the hospital while six injured are undergoing treatment. A woman and her five-year-old child, who had suffered head injuries, along with another eight-year-old boy was referred to GTB Hospital in Delhi for better treatment," said NK Gupta, Ghaziabad chief medical officer.
Ghaziabad district magistrate Ritu Maheshwari said she had ordered a magisterial inquiry which will be conducted by additional district magistrate. Maheshwari, who is also the vice-chairperson of Ghaziabad development authority (GDA), has ordered an internal inquiry about approvals of the building.
"Prima facie it looks like the building was being constructed by a private developer and had no permission from the authority," Maheshwari said.
The rescued labourers estimate that there were 10-12 persons inside the building when the incident took place.
According to police officials, four private builders were constructing the building on a plot of land in Akash Nagar. Ghaziabad municipal commissioner CP Singh said that the locality is part of Indergarhi village and not an urban local body.
District magistrate Maheshwari said that notices had been served to the builders who were getting the building constructed.
"The building had a demolition order in December 2017 and later few more letters for demolition were issued. The last date was July 12 but on all occasions we couldn't put together a police force . The building was illegal and had no clearances," she said.
Rescue officials from NDRF said that the incident in Ghaziabad was very similar to the recent Shahberi building collapse incident in Greater Noida in which nine people had been killed.
"It is almost similar to Shahberi incident. Most of the injured we retrieved from the site here were unconscious. Heavy beams on weak columns could have led to the building collapse," said PK Srivastava, commandant of the eighth battalion of the NDRF.
Later, UP chief minister announced ₹2 lakh each compensation to the kin of dead and ₹50,000 each for those injured.