Ambulances at L-G's house, Kejriwal says he and AAP ministers shouldn't be removed
Jun 15, 2018 05:46 PM IST
Delhi Chief Minister Arvind Kejriwal and three AAP ministers have been on sit-in protest at Anil Baijal's residence-cum-office for five days.
Delhi chief minister Arvind Kejriwal and his three cabinet colleagues continued their sit-in protest at Lt Governor Anil Baijal's office on Friday, pitching the Aam Aadmi Party (AAP) leaders against the central government's representative for the fifth straight day.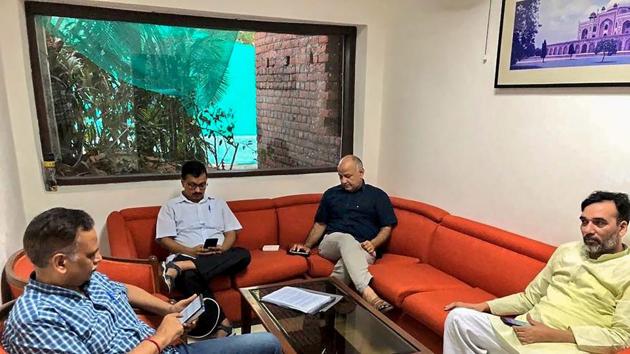 Kejriwal, deputy chief minister Manish Sisodia, public works department minister Satyender Jain and development minister Gopal Rai have camped at Raj Niwas since Monday, refusing to leave until Baijal orders Indian Administrative Service (IAS) officers posted in the Delhi government to call off their alleged strike.
Sisodia and Jain are on hunger strike and as four ambulances carrying medics drove in to the Raj Niwas, Kejriwal said in a tweet he suspected his ministers would be taken away forcibly. Kejriwal and the three ministers have been using Twitter to drum up support for their protest.
Kejriwal on Friday retweeted a post that said AAP will collect 10 lakh letters from Delhi's citizens requesting Prime Minister Narendra Modi to "end IAS officers strike".
Jain, who is on a hunger strike since Tuesday, in a tweet urged Modi to look into the matter.
"Have been waiting in the LG office from last four nights, but he could not mange even four minutes time. I hope the Prime Minister will look into this," Jain tweeted.
Echoing same sentiments, Rai also tweeted adding that he hopes Modi will "be concerned about the fitness of the democracy in Delhi".
On Thursday, Kejriwal in a letter sought Modi's intervention to end the IAS officers "strike", as there has been no communication from Baijal's office.
Meanwhile, the Aam Aadmi Party (AAP) has launched a social media campaign with the hashtag #ModijiForgiveDelhi.
Party members posted videos requesting Modi to let the elected government work by instructing the IAS officers to join back work.
Since Monday, Baijal has been working from his residence, according to sources.
More political leaders and parties have come forward to express their support to the sit-in, with former Uttar Pradesh Chief Minister Akhilesh Yadav, actor-turned-politician Kamal Hassan and Shatrughan Sinha, and parties like the CPI and the CPI(M) being the latest to join the list.
Kejriwal's protest has already been backed by West Bengal chief minister and Trinamool Congress supremo Mamata Banerjee, RJD MP Manoj Jha, former Union Minister Yashwant Sinha.
(With inputs from IANS)