Kejriwal refuses to budge from dharna, L-G Baijal meets Rajnath
Jun 16, 2018 09:58 AM IST
Delhi CM Arvind Kejriwal, deputy CM Manish Sisodia, PWD minister Satyender Jain and rural development minister Gopal Rai have been camped at Raj Niwas since Monday, and refused to leave until L-G Anil Baijal orders IAS officers posted in the Delhi government to call off an alleged strike.
Delhi chief minister Arvind Kejriwal and three of his cabinet colleagues continued their sit-in protest inside the lieutenant governor's office for the fourth straight day on Thursday even as L-G Anil Baijal met home minister Rajnath Singh over the standoff that has brought the Capital's administration to a standstill.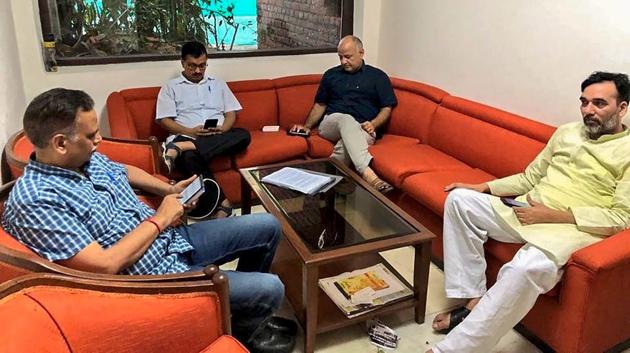 Kejriwal and three ministers, deputy chief minister Manish Sisodia, public works department minister Satyender Jain and rural development minister Gopal Rai, have been camped at Raj Niwas since Monday, and have refused to leave until the L-G orders IAS officers posted in the Delhi government to call off an alleged strike.
Baijal briefed Singh about the protest, a home ministry officer said on the condition of anonymity.
"The L-G also briefed the minister about the ongoing police investigation into an alleged assault on chief secretary Anshu Prakash in February this year. Baijal also informed the minister about his communication with the bureaucrats on the issue," the ministry official said.
The IAS Officers' Association denied they were on strike and released photographs that purportedly showed them working in offices inside the Delhi secretariat, which also houses the office of the chief minister.
On Thursday, as Kejriwal and his ministers protested at the L-G's office, a meeting to discuss Delhi's rising dust pollution was held. The meeting was attended by the government's environment minister Imran Hussain and Prakash in attendance. This was the first important meeting since the sit-protest started began four days ago.
The CM has found support from opposition leaders such as Akhilesh Yadav, Tejashvi Yadav, Sitaram Yechury, Sharad Yadav, Brinda Karat, Kamal Hassan and Shatrugan Sinha, who all tweeted in favour of his protest.
Kejriwal also wrote to Prime Minister Narendra Modi seeking his intervention to resolve the impasse. "Due to strike, several works are being affected. As L-G is doing nothing to end IAS officers' strike, Delhi government and the people of Delhi request you (PM) with folded hands to get the strike called off immediately so that works of Delhi can resume," his letter read.
Sisodia wrote a second letter to the L-G, seeking an appointment. Kejriwal's wife Sunita, who said she was stopped from meeting her husband and his three colleagues, said that Jain's health had deteriorated.
Chaos in the city's bureaucracy also threatened to escalate with the Delhi Government Employees Association announcing they would begin a protest in front of Prakash's office from Friday, demanding the restructuring of DASS (Delhi administrative subordinate services) and steno cadres of the government. Ranked below additional secretary rank officers, those in the DASS cadre are posted in different government offices.
Less than 10km away from the L-G house at the Delhi secretariat, Delhi's Bharatiya Janata Party(BJP) leaders have started a similar sit-in protest outside chief minister's office.
Party leaders such as Vijender Gupta, Parvesh Verma, Manjinder Singh Sirsa, Jagdish Pradhan along with former Aam Aadmi Party leader Kapil Mishra are protesting in a waiting room outside the CM's office. They have put up banners inside and outside the building against Kejriwal for "going on leave" at a time when Delhi is grappling with worst levels of air pollution.